Aamir Siddiqi: Defence claims co-accused's account 'absurd'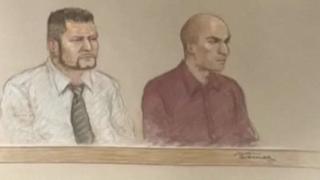 The jury in the Aamir Siddiqi murder trial has been told the account given by one of his alleged killers was "absurd and ridiculous".
David Aubrey QC, defending Ben Hope, said co-accused Jason Richards was a fantasist who fabricated an elaborate story.
Mr Hope, 39, said he was in a "drugs stupor" when Aamir, 17, was killed in a bungled contract killing in Cardiff.
Both men deny murdering Aamir and attempting to murder his parents.
The jury had previously heard Mr Richards say he was not one of two men seen leaving his house around an hour before the A-level student was stabbed on his doorstep in the Roath area of Cardiff in April 2010.
However, Mr Richards alleged Mr Hope was one of the men in question.
He also claimed he saw Mr Hope return with blood on his clothes in the hours after Aamir was murdered, but Mr Richards told the court Mr Hope would not tell him what had happened.
In his evidence, Mr Hope said he had been in a "drugs stupor" at a property in North Road when Aamir was stabbed.
He also said he had borrowed clothes from Mr Richards that day and left his old ones at Mr Richards' home.
When asked why, Mr Hope said he bled when he injected his arm with drugs and the blood smeared down him when he had fallen asleep.
Mr Hope told the court he did not see the clothing again and did not ask what had happened to it.
Mr Aubrey, defending, referred to the fact that Mr Hope had fallen into these deep sleeps before where he had burnt himself and not realised it.
"We are not talking about quiet naps, we are talking about a man who falls deeply asleep," he said.
Referring to the issue of why Mr Hope changed his clothing on the day of the murder, Mr Aubrey reminded the court a forensic scientist said there was evidence of Mr Hope's blood on a number of his pairs of jeans consistent with a person who has injected himself.
Summing up, Mr Aubrey told Swansea Crown Court: "We submit that Ben Hope was absolutely right when he said Mr Richards was something of a fantasist."
He also accused Mr Richards of fabricating "an elaborate story".
'Third man'
Earlier on Tuesday, John Charles Rees QC, defending Mr Richards, finished his closing speech by making, what he called, a "seminal point".
He said Aamir's father, who desperately tried to fight off his sons killers, said he had grabbed the attacker's left hand - the hand the knife was in.
Mr Rees said the court had heard the "unchallenged evidence" of Mr Richards that he is right-handed.
He told the jury the evidence points to "another man".
Mr Rees had earlier listed 18 other points which he submitted "suggest there was a third man".
He ended his speech by telling the court that Mr Richards was "entitled to be found not guilty".
The trial continues.