Welsh Country Foods: Asda switches lamb deal to Dunbia in Carmarthenshire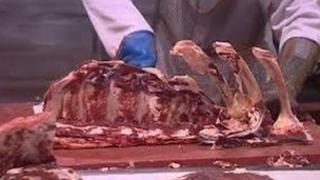 Supermarket chain Asda has confirmed it is ending a contract with an Anglesey meat plant and has signed a deal with a Carmarthenshire firm.
Up to 350 jobs are under threat at Welsh Country Foods (WCF) in Llangefni after Asda ended its contract there.
Asda said the "decision was not taken lightly," and it would now source Welsh lamb from Dunbia, based in Llanybydder.
Dunbia said it was an "exciting opportunity" but union leaders on Anglesey said it was a "body blow".
It is unknown at the moment whether the Dunbia deal will create any more jobs.
In a statement Asda said: "We have taken time to review Welsh Country Foods' challenges to the termination of its contract.‪
'Not taken lightly'
"Unfortunately, our decision to end our supply relationship remains.
"We appreciate how disappointing this news will be for Welsh Country Foods but we want to reassure everyone that this decision was not taken lightly."
It added: "While we have decided to end our supply relationship with Welsh Country Foods, we look forward to working with Dunbia so we can continue to help support the Welsh lamb industry and its farmers."
Jim Dobson, Dunbia's group managing director, said "Dunbia has been supplying lamb to Asda for a number of years and this is an exciting opportunity for us to strengthen our lamb business with this key customer.
"We have invested heavily in lamb processing and I believe that our commitment to that sector has been recognised in Asda's decision.
"We are now seeking to source lambs from all of Asda's current producers and we are keen to build our supplier producer base in Wales.
Mr Dobson added: "Lambs currently sourced from Wales for Asda will continue to be processed in Wales. Dunbia is fully committed to supporting Welsh farming and the Welsh economy.
"This is a strategic decision by Asda that will allow us to work better together to develop a sustainable lamb supply chain for the benefit of both the producer and the customer."
A spokesperson for Dunbia added that it was too early to say whether the deal would lead to any more workers being taken on in Llanybydder.
'Exploring every opportunity'
A Vion spokesperson said: "We are very disappointed with Asda's decision to terminate their contract with Welsh Country Foods, and we remain concerned about the potential impact that their decision may have on the local community and on farming in north Wales.
"The 90 day consultation period is still in progress and Vion remains committed to exploring every opportunity to mitigate against any potential job losses."
Paddy McNaught, regional industrial organiser for Unite, said: "We're very, very disappointed at the sad news that Asda have decided to move that contract to another company, which will mean loss of jobs on Anglesey.
"From our perspective it's a case of talking to all the key stakeholders concerned and keeping job losses to a minimum."
He said the union would concentrate on "supporting the members at risk and working to ensure we maximise any opportunities for that group of workers".
NFU Cymru President Ed Bailey said it was "with great disappointment" that the union had learnt that Asda had confirmed its termination of the contract with WCF.
Last week, workers at the closure-threatened WCF plant asked customers to boycott Asda stores.