Aamir Siddiqi: Doorbell horror for wrong victim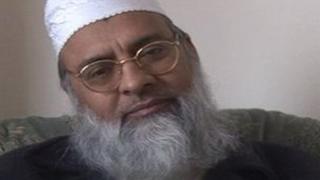 When the doorbell rang on a normal April Sunday afternoon, 17-year-old schoolboy Aamir Siddiqi volunteered to answer.
He was expecting the local imam Qari Ferozuddin who was due to teach him the Koran at his home in Ninian Road, Cardiff.
Instead, he was greeted by Ben Hope and Jason Richards wearing balaclavas who stabbed him to death in a incompetent contract killing.
Hope and Richards have been convicted by a jury at Swansea Crown Court.
On that day, Aamir was expecting to have a lesson from the imam.
Usually the lesson took place at three o'clock but that day there had been a change in time.
Aamir was home with his mother Parveen and his father Iqbal.
There was a happy and relaxed atmosphere in the household on that sunny Sunday in the house and Aamir's father was singing when his mother noticed someone at the door.
It was twenty minutes to two.
The family knew the imam was coming earlier than usual. Aamir's mother could see the person on the other side of the door putting something over their head. They thought it was the imam.
Aamir ran downstairs offering to open the door - a decision which devastated the family and cost the youngster his life.
As he opened the door, two men wearing balaclavas stormed in holding daggers above their heads - howling as they rained down fatal blows on unsuspecting Aamir.
His parents rushed to his aid but they were unable to stop the attack and were badly injured before Ben Hope and Jason Richards, high on heroin and instructed to kill a different man on a neighbouring street, ran away from the house.
Their attack lasted but a few moments but the impact remains and the shocking loss of Aamir is still felt keenly.
Imam Qari Ferozuddin, who was due to teach the bright student that day, was one of those affected.
"He was a very good and nice boy," he said.
"He would read the Koran and he didn't have any bad habits.
"Before this (his lessons) he couldn't speak Urdu but then he picked it up and could speak to his parents in Urdu as well, he would sit down to eat and read the Koran.
"He was very respectable when you met him.
"We used to go there at three o clock but we were coming earlier so he came down and opened the door and that's when it happened.
"I was very, very sad.
"And very, very sorry - he was a very good boy," he added.