Aamir Siddiqi: Drug addicted killers met in prison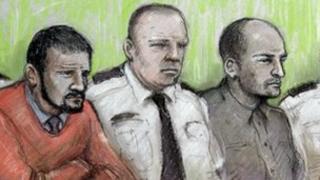 The barrister representing Jason Richards over the murder of teenager Aamir Siddiqi made little attempt to defend the way his client lived.
"His lifestyle is appalling, let's be honest," John Charles Rees QC told the jury trying Richards and co-defendant Ben Hope for the mistaken killing at the 17-year-old's Cardiff home.
Richards, 38, and Hope, 39, were high on heroin when they knocked on Aamir's door and stabbed him to death, carrying out a contract killing intended for another house nearby.
The Swansea Crown Court jury convicted the pair after less than a day's deliberations following a trial lasting four-and-a-half months.
During the trial, the jury was presented an image of the two as violent men on the outskirts of society, heavily involved in a criminal underworld and dependent on drugs.
Richards was a drug dealer who sold to addicts on the streets of Cardiff. He also had his own addiction problem.
He had run a garage business and was putting money into a savings account for his daughter but he also led a chaotic and violent lifestyle.
Since 1996, he had been given several prison sentences over the years for violence, robbery, blackmail and had been ordered to serve drug rehabilitation programmes.
It was during one of his stints in jail that he formed a friendship with Ben Hope.
Their association continued after release and despite Richards claiming he did not like Hope.
Both were addicted to hard drugs and their association turned into a co-dependency.
Excessive drug use had led to the veins in Richards's arms collapsing and he relied on Hope to administer heroin into parts of the his body he was unable to reach.
Richards's barrister John Charles Rees QC told the jury during the trial: "He did run a garage business. He did have bank accounts. He had a savings account and was putting money away for his daughter.
"But I am not going to be unrealistic. Jason Richards is never going to impress you as a person or as a witness.
"But please do not be prejudiced by that. He would behave like that, guilty or not guilty."
Robbery and kidnap
Mr Rees said: "He was an addict and depended on Hope to inject him because the veins in his arm had collapsed.
"Not many people will do that. If I supply you with heroin, that's one thing.
"But if I inject you with heroin and it goes wrong, then I'm going to get into trouble. Hope injected Jason Richards with heroin and he was needed."
Hope lived a similar lifestyle. He was serving a six-month jail term for robbery and kidnap when he met Richards.
They were cellmates when their friendship began. During his time in jail, Hope attacked a guard, breaking his nose.
On release, he was later convicted of another violent offence and his friendship with Richards continued in its spiral of destructive drug dependency.
Then they were tempted by a deal with an unnamed businessman, in an act of revenge over a property deal that turned sour. The pair agreed to carry out a hit for a payment of £1,000 each.
Fuelled by heroin, that arrangement ended the life of innocent Aamir Siddiqi.