8,000 crimes committed in Wales by defendants on bail in 2012, BBC learns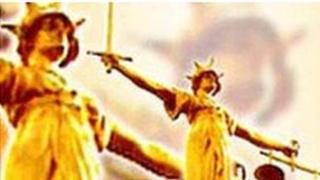 Nearly 8,000 crimes were committed in Wales last year by defendants remanded on bail, BBC Wales has learned.
The offences by nearly 4,000 people include 2,222 cases of theft and handling stolen goods, 548 acts of violence and 34 sexual offences.
A Ministry of Justice spokesperson said that the "overwhelming majority" of people bailed did not reoffend.
In 2011 around one in 10 defendants on bail reoffended, although the ratio for 2012 is not yet known.
The details were obtained under the Freedom of Information Act by the BBC Wales Welsh-language news website Newyddion Ar-lein.
In 2012, 3,735 offenders committed 7,982 crimes while remanded on bail in Wales.
Court proceedings data for 2012 has not yet been published, but the estimated number of defendants remanded on bail at all courts in Wales in 2011 was 40,181.
In 2011 there were 9,286 offences committed while on bail in Wales compared to 10,087 in 2010 and 7,800 in 2009.
'Extreme care'
A Ministry of Justice spokesperson said that decisions on granting bail were made carefully.
"Dangerous offenders should always be remanded in custody.
"We expect the police and courts to take extreme care when making a decision to grant bail and the overwhelming majority of people bailed do not reoffend.
"Those who do should receive a longer sentence as a result."
Harry Fletcher of probation officers' union NAPO said: "The figures are not surprising considering the characteristics of the population on bail.
"For example, they are more likely to have been under local authority care, to be unemployed and to have mental health issues.
"Magistrates have difficult decisions to make".
*Summary offences are usually heard only by a magistrates' court where they are governed by Part 37 Criminal Procedure Rules 2010. This group is dominated by motoring offences, for some of which fixed penalties can be issued, but also includes such offences as common assault and criminal damage up to £5,000. They can attract a maximum penalty of six months imprisonment and/or a fine of up to £5,000.