Diabetes: Ysbyty Gwynedd hospital service shuts temporarily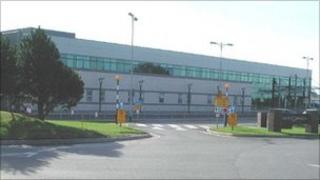 Diabetics have complained after services to treat the condition were cut at Ysbyty Gwynedd in Bangor.
Health officials say the temporary closure of endocrinology services will maintain patient safety and is due to staff illness and the ongoing recruitment of a consultant.
Clinics will still be on two days a week and anyone needing admittance will have to go to Ysbyty Glan Clwyd in Bodelwyddan, Denbighshire.
Diabetes UK Cymru has voiced concern.
Ysbyty Glan Clwyd is 32 miles (52km) from Ysbyty Gwynedd and Alun Jones, 73, the chairman of Diabetes UK's Dwyfor branch on the Llyn peninsula is concerned about the distances some patients might have to travel.
Both he and his wife Anne, 72, have the condition.
"I'd like to see the place reopen as soon as possible as it's a step for anyone who has to travel from Pen Llyn if they have a problem," he said.
Group secretary Myfanwy Hughes, who has two family members with the condition, said there had been previous problems with diabetic services at Ysbyty Gwynedd but she had not realised it was being temporarily closed.
"It's scandalous that they cannot sort out something which is so important, because diabetes is affecting more and more people.
"The health service is clearly unable to cope and I'm very concerned about everyone this affects, it's a situation that causes concern to a lot of people."
'Huge numbers affected'
Pen Llyn group has about 80 people on its books, but Mrs Hughes said that was just a "very small proportion" of those who had diabetes in the area.
"Bangor is far enough for people to travel, let alone Glan Clwyd. The health authority should make a priority of the service at Ysbyty Gwynedd."
Dai Williams, Diabetes UK Cymru director, said he echoed the concerns of patients and support groups.
"There is a diabetes epidemic in Wales and huge numbers are affected. I've had phone calls from patients angry at this closure.
"Roughly 166,000 have got diabetes, in addition there are another 66,000 who have it - mainly type 2 - but have not been diagnosed.
"They are walking around with it for a wee while which means an elevated blood sugar which can cause problems such as strokes. The bottom line is that this closure is letting down people with diabetes.
"If they visit Ysbyty Gwynedd they probably have complications and will be unwell so they will not want to travel further."
A Betsi Cadwaladr University Health Board spokesperson said the closure was "unfortunately due to staff sickness together with an ongoing recruitment process for a new consultant"
"We have had to temporarily close the service to maintain patient safety.
"We apologise for any inconvenience to patients and are working hard to make sure we can recruit to the post as soon as possible.
"These are very difficult circumstances and this highly unusual step will be for the shortest time possible."
The spokesperson added that interim consultants from Ysbyty Glan Clwyd were providing cover two days a week at Ysbyty Gwynedd and a "limited outpatient service is operating from the hospital".
"Patients usually admitted to Ysbyty Gwynedd for care will be admitted to Ysbyty Glan Clwyd to ensure they receive appropriate levels of care," he added.