Jess Fishlock: Wales captain's excitement at signing for Seattle Reign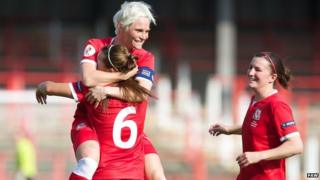 She is Cardiff City's record goal scorer and capped 67 times by her country.
Now Wales women's football captain Jess Fishlock has signed up to play in the best league in the world.
Midfielder Fishlock, 26, from Cardiff, has signed for Seattle Reign in the United States after being spotted by scouts.
She is thought to be the first female Welsh player to cross the Atlantic and is due to fly out at the end of March.
Fishlock started her career at Cardiff and became the club's record goal scorer before she played for teams in Holland, Australia and Bristol.
Reflecting on her US move, she said: "It's completely professional and you're playing against the best in players in the world.
"Everyone would want that experience of playing that kind of football in their career."
Fishlock knew it was the time of year scouts from the National Women's Soccer League would be looking for potential players to sign up, then on a return trip from playing in Greece, Laura Harvey, manager at Seattle, got in touch.
She said: "I had just come back from playing in Australia and I received it by email.
"I've had a good 18 months and the hard work has paid off. I'm really, really excited and I can't wait to get there and get started."
Fishlock will travel to the Algarve for training in March and then fly to the US west coast.
She said: "I'll be playing with, and against, some of the best in the world - from Canada, Mexico, America - there's a very solid base of football there."
The signing was one of the "biggest moves" of her career, said the footballer, although leaving Bristol would be difficult.
"Women's football is massive in the US and they expect the stadium, of about 5,000, sells out at every game. That's levels above UK or anywhere else in Europe.
"At the end of my career, I'll look back and think how lucky I was to have done this kind of thing."
Fishlock, whose idol is ex-Manchester United star Eric Cantona, has already achieved many career ambitions.
'Fast-tracked'
She has captained the under-19 Wales side and played in Euro and World Cup qualifying campaigns, played against Germany in front of a 25,000 crowd, and has won three league titles in Holland.
Prof Laura McAllister, who chairs Sport Wales, was captain at Cardiff City when Fishlock joined aged nine.
"Jess joined the junior team but she was so good we fast-tracked her. Jess is just a fabulous player," she explained.
"She is technically superb with fabulous skills and among the to two or 3% in Britain.
"She's ambitious and adventurous and to be a top, top sports-player you've got to be like that."
Prof McAllister said the National Women's Soccer League only sign "the cream from abroad" so Fishlock was up there with the best.
"To my knowledge Jess is the first international to be signed from Wales.
"Women's football has a great status in the USA, so much more so than in Britain and Europe. She makes the game look easy."
"Her move will have a positive impact on the game, she is a role model and that's something she takes very seriously."
Fishlock takes her role-model status "very seriously" and thinks her move to the US will benefit her home country.
"It's really good for Welsh football and I think it gives young girls something to aspire to.
"It might make them think they can do it, too."