Kirsty Williams claims hospital staff are 'overwhelmed'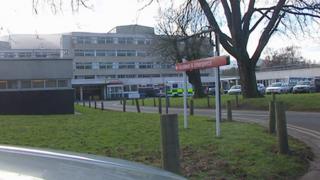 The leader of the Welsh Liberal Democrats claims there is a crisis in the NHS in Wales with hospital staff "overwhelmed" by pressure of work.
Kirsty Williams warned of the risk of a scandal similar to Stafford Hospital where people died because of appalling standards of care.
She spoke after visits with family to A&E and emergency admissions units at Abergavenny's Nevill Hall Hospital.
The local health board said it had opened extra beds and hired more staff.
Ms Williams told BBC Radio Wales' Sunday Supplement that the NHS was not coping despite the best efforts of staff.
She said had recently taken her mother-in-law to accident and emergency and, last Monday, the emergency admissions department - where patients are directly referred by their GP - at Nevill Hall Hospital.
"[There were] staff working hours long after their shift should have finished, still working on those wards because of a lack of nurses and a lack of doctors," she said.
"Patients were waiting incredible amounts of time to be seen and, in the end, patients were leaving the hospital against medical advice because there were simply no beds for them.
"It seemed to me, especially last Monday night, that this was a service that was not coping at the moment and, despite the best efforts of staff, that's when mistakes are made."
Mrs Williams said there was one man who had waited more than seven hours for a definitive diagnosis for his condition.
Eventually, he felt he could not wait any longer and, when asking the nurse when he would be seen by a doctor, the nurse was unable to give him an answer.
"There was a lady who was told she needed to stay the night to be observed, but there was no bed and that she should take a seat again in the waiting room and they would keep an eye on her there," she said.
"And she said 'well I can't sit overnight in the waiting room, I have to go home if there's no bed for me'.
"And they couldn't tell her when a bed would become available. The hospital was full to the gunnels and if she left she would have to sign to say she was leaving against advice of staff and the warden.
"This unit - everyone had been sent there by their GPs - these were not people who were... turning up inappropriately."
She said doctors were having discussion about patients in front of other people in the waiting room because of a lack of space elsewhere and were simply run off their feet.
It appeared to be a service that was "completely overwhelmed by the demands being placed upon it", she said.
Mrs Williams said senior managers had admitted to her that the hospital was "struggling".
She said there could be a "mid Staffs" in Wales and, although the NHS in Wales was not yet in that "catastrophic state", it was necessary to be open and honest and admit it could happen.
A report last week into failings at Stafford Hospital found years of abuse and neglect had led to the unnecessary deaths of hundreds of patients.
The Francis report found systemic failures in Mid Staffordshire NHS Foundation Trust.
'Unprecedented demand'
Aneurin Bevan Health Board, which runs Nevill Hall Hospital, said it had acknowledged the concerns raised by Mrs Williams and "made a full and comprehensive response last week".
"The health board wishes to reassure patients and the public that the safety of our services are always of our utmost concern and are confident that the safety of patients was not compromised on that evening [Monday, 4 February]," said the board in a statement.
"There is no doubt that the hospital was very busy on the night in question.
"Nevill Hall Hospital along with other hospitals in Wales has been experiencing unprecedented demand over recent months.
"However, Aneurin Bevan Health Board has opened additional beds and employed additional nursing staff to support these pressures on our services and has funded specific additional capacity at our emergency department at Nevill Hall.
"The health board is confident that the additional measures that we have put in place have continued to ensure that the services at Nevill Hall provide safe patient care for local people."
The Welsh government said it would not make any comment about the criticisms by Mrs Williams because it believed it was a matter for the health board.
However, Welsh Health Minister Lesley Griffiths said last week she would study the Francis report to see what lessons it may have for Wales.
'Battery hen'
Ms Griffiths said then that Wales had "robust systems in place to ensure quality and safety are at the heart of NHS care".
Since the Francis report, Cynon Valley MP Ann Clwyd has been appointed by Prime Minister David Cameron as an adviser on how NHS hospitals handle complaints.
Ms Clwyd had protested about the care her late husband Owen Roberts received while he was at the University Hospital of Wales in Cardiff last year.
She said last year he had died "like a battery hen".
Ms Clwyd has previously tackled the prime minister at question time in the Commons about how he would respond to complaints about nurses who failed to show care and compassion to patients.
She has also met healthcare organisations and patient groups to discuss possible solutions.