Food critic's call to boost school cookery lessons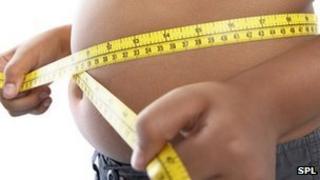 One of Wales' most prominent food critics has called for more emphasis to be placed on teaching cooking in schools in Wales.
Simon Wright said it would be a great way to get to grips with child obesity levels, which are 35% according to recent statistics.
Wales could "lead the way in addressing one of the greatest health threats of our time", he said.
The Welsh government says it will look at how it can boost cookery in schools.
"We know that Wales has a problem... with some of the worst rates for childhood obesity and diet related illnesses in the world," said Mr Wright.
"I don't believe we can change the way children eat simply by telling them what is good for them."
He said it was necessary to change young people's "relationship with food", which could be done by getting them to cook.
On average, school pupils in Wales will have had eight hours of cookery lessons during their time at school.
Head chef at Coleg Llandrillo in Rhos on Sea, Conwy, Glennydd Hughes, said students often believed they were better cooks than they really were because they had watched so many TV chefs.
"Unfortunately, because they see these programmes, they tend to think 'I can do this no problem'," he said.
"But what they realise is they need to learn the basic skills - the chopping, the dicing, using the knife correctly.
"In the first few months we do have a few cut fingers but as time goes on they become less and less."
'Pleasure to eat'
A prominent doctor who runs a weight management clinic in Blaenau Gwent said last year that Wales' obesity "epidemic" was so bad that it lagged just behind world leader the USA and was getting worse.
And last month, S4C chef Nerys Howell launched a drive to encourage families to switch to healthier food as part of a Welsh government campaign.
Myfanwy Stubbs, who used to be a full time home economics teacher, said she believed it would take time to change children's relationship to food.
"I think if children learn from a young age the value of food and which foods are not just good for them but a pleasure to eat - and also they have a knowledge of where that food comes from - they're much more likely to prepare the food, to enjoy it and to share that experience with their friends and family as well," she said.
The Welsh government says cooking in schools can help children develop practical skills in food preparation, and it is looking at how it can organise a seminar into its ongoing work to promote these skills.