Brian Coleman: Auction for boxing's unsung hero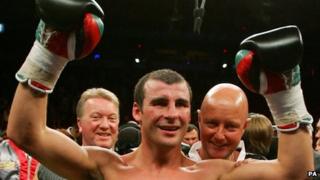 Famous names from the world of sport including boxer Mike Tyson and footballer Wayne Rooney are helping an unsung boxing hero after he was diagnosed with brain tumours.
Brian Coleman who spent 12 years of his career as undefeated world boxing champion Joe Calzaghe's 'cut man', needs on-going care.
So boxers at the gym he was coaching at in the south Wales valleys organised an auction to help towards the costs.
Top sports stars have donated items.
Lots going under the hammer at The Nixons Social Club in Mountain Ash, Rhondda Cynon Taf, on Saturday evening include a signed shirt from Wayne Rooney, shorts worn by boxer Roberto Duran during his first WBA title win over Ken Buchanan in 1972, and 10 pieces of Mike Tyson's memorabilia from across his career including boxing boots, gloves and signed pictures.
Joe Calazghe has also donated the gloves he wore in his defeat of Bernard Hopkins.
Mr Coleman, 66, from Mountain Ash, may not be a familiar name to casual fans, and indeed he only enjoyed a modest career inside the ring.
But as trainer of the Kyber Colts Gym in Penrhiwceiber, he has coached over 200 Welsh, British and Commonwealth champions.
And as Joe Calzaghe's 'cut man' for 12 years, he patched-up the southpaw throughout his undefeated multiple-belt reign as super middle-weight world champion.
"Brian's forgotten more about boxing than I'll ever know," explained Calzaghe. "He can read a fight better than anyone I've ever met.
"I had so many problems with my hands throughout my career, and Brian looked after them like two newborns.
"And my good looks today are testament to his skill," he joked.
"I called him The Ice Man, not just because of his cut work, but because when mine and Dad's Italian temperament came to the fore in a fight, Brian was always the cool head who'd think rationally about what needed to be done."
Mr Coleman himself is a lot more humble about his part in Calzaghe's success.
"Being cut man to Joe was the easiest job in the world - no one could lay a glove on him," said Mr Coleman.
"His hands were a worry, but managing that was more of a mental than a physical thing.
"The night he broke his hand in the third round against Evans Ashira, I thought we were done for, but I couldn't let Joe see that.
"So I told him, you can fold, and no-one would blame you - or you can show them what a real champion's made of.
"He boxed the rest of the fight with one hand and won on points - I'd say that was one of Joe's best ever performances."
In 2010 Mr Coleman was honoured with a lifetime achievement award from the World Boxing Council.
But despite the success enjoyed during a career spanning six decades, he is at a loss to understand the overwhelming response to his illness by the boxing world.
"I only found out about the tribute night by accident, and that's probably a good thing because if I'd known sooner, then I'd have told them to stop being so soft," he said.
"For me the real prize is knowing the effect I've been able to have on the lives of the champions I've trained.
"Years ago, sitting in a dressing room in Madison Square Garden - the Mecca of boxing - I thought, 'Hang on a sec, I'm a Penrhiwceiber boy!' So boxing hasn't given me a bad life.
"Having said that, it's a real honour when you realise that people you've admired their entire career, also admire you."
Goodwill messages have come flooding in - including support from Sugar Ray Leonard, Tim Witherspoon, Mike Tyson, Roberto Duran and Marvin Hagler.
The auction and tribute night was the idea of one of Mr Coleman's former boxers, Dai Jones, who has taken on coaching the Kyber Colts since his illness.
"Everyone's so busy these days that we don't take the time to stop and tell people how much they mean to us so I'm so delighted that this is exactly what boxing's done for Brian," said Mr Jones.
"I wrote a few lines in the Boxing News a few months ago, and from there the response from within the sport and beyond has been truly incredible."