Churches in Wales may become affordable homes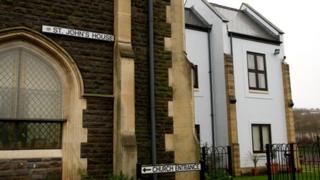 Churches are being encouraged to offer up empty buildings or unused land to be transformed into affordable housing.
The Housing Justice charity has appointed its first officer for Wales to liaise with all churches.
It hopes churches, church halls and vicarages which are no longer used because of falling congregations will be offered for conversion into homes.
The Church in Wales and Shelter Cymru said the initiative would help to tackle the country's housing crisis.
The Church in Wales said one of its churches closes every month in Wales, mainly because the number of people using them is falling.
Meanwhile, Shelter Cymru said around 90,000 households are currently on waiting lists for council or social housing.
The Faith in Affordable Housing project run by Housing Justice aims to try to solve both problems to "make a difference to people's lives".
"The reality is that the congregations are shrinking and we're sorry about that - we're certainly not jumping for joy about it," said project director Alastair Murray.
"But we're looking at that situation as how can the church fulfil its mission to respond to both human and spiritual needs, along with making use of its under-used resources."
He said churches from all denominations would be approached.
A report into the future of the Church in Wales published last July looked into how the church could adapt to cope with the decline in clergy, falling congregations, a surplus number of churches and a large repair bill for its buildings.
Alex Glanville, head of property services at the Church in Wales and a member of the project's steering group, said that if it could help provide housing - a "basic humanitarian need" - it would be a good use of resources.
"As a church, we increasingly have more building space than we need across Wales and we are keen to see how some of it could be converted into affordable housing," he said.
"We have many churches built 150 years or so ago, for example, that are no longer suitable for today's worshippers as they are too large and difficult for small congregations to maintain.
"They could be leased or sold to housing associations if they become redundant or partly converted if they are still used for worship.
"All the money raised would be ploughed back into the church's ministry."
He added that about two thirds of Church in Wales churches are listed buildings and could not be demolished, so they would have to be converted.
Housing benefit changes
Mr Glanville said there have been a few examples of churches selling or leasing their buildings and land for housing in the past but now the issue would become "more of a focus".
St John's Church in Hafod, Swansea, has been partly converted and extended by Gwalia Housing to house 10 affordable flats for elderly people.
The project will be highlighted at a conference in Cardiff in April organised jointly by the charity and the Church in Wales and supported by the Welsh government.
A spokeswoman for Shelter Cymru said Wales needs 4,000 new affordable homes a year just to meet current demand.
"There is no doubt that we need more affordable homes but the difficult financial climate means that we have to be more imaginative and innovative in making this happen," she added.