Simon Daw disappearance: Family offers 10,000 Euro reward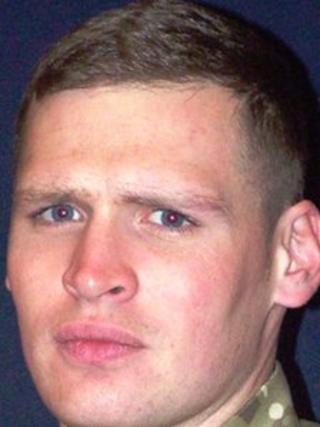 A 10,000 Euro (£8,600) reward has been offered for information about a Cardiff soldier missing in the French Alps.
L/Cpl Simon Daw, from Pontprennau, disappeared two weeks ago after a night out with friends in the ski resort of Les Deux Alpes.
The 26-year-old, who was on leave from 1st Battalion The Royal Welsh, failed to return to the apartment where he was staying with two friends.
French police have described his disappearance as a mystery.
Mr Daw's father Vincent, 59, and brother Joe, 22, have visited Les Deux Alpes to heighten awareness and post a number of leaflets featuring Mr Daw's picture.
The posters issued by the family in France offer a reward of 10,000 Euros for information that leads to the soldier's safe return.
Vincent Daw, of Pontprennau, Cardiff, said: "I spoke to the local police in France and they've assured me this is their number one priority.
"We've also contacted the mobile phone company to see if they could track the signal of Simon's phone, which could indicate areas he's been to.
"Shortly after arriving in Les Deux Alpes, we know Simon bought an orange ski coat and someone might remember seeing him and remember his face.
"We just want anyone with information, however small, to get in touch with the police."
A keen snowboarder, Mr Daw, who studied at Corpus Christi Roman Catholic High School in Cardiff, is based in Chester with the Royal Welsh.
He is 5ft 9in (1.7m) tall, slim and with short blonde hair, and was last seen at a bar just after midnight on 12 February.
French police said Mr Daw and his friends had "not consumed an excessive amount of alcohol" on the night he disappeared.
'Very concerned'
A police spokesman said: "It is a mystery at the moment. We are searching on foot and from the air. We are very concerned about his whereabouts."
An Army spokesman in Wales said: "We're aware a serving soldier has gone missing in France.
"We are offering his family the support they need at this time."
On the night of his disappearance Mr Daw was wearing a grey hooded sweatshirt, beige jeans and black trainers.
The two friends he was holidaying with had gone home earlier in the night and alerted the police when failed to return to their rented flat in Venosc.