Car insurer Admiral profit rises 15% to £345m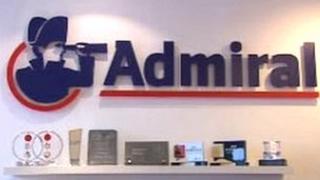 Admiral, the UK's second biggest car insurer, has announced a 15% rise in profits.
The figures show pre-tax profits of £345m for the year to December 2012, compared to £299m the previous year.
In all, 6,500 staff with the Cardiff-based group will get free shares worth £3,000 in the employee share scheme.
Alastair Lyons, chairman of the group, which also has offices in Swansea and Newport, called it Admiral's "20th and most successful year to date".
He added: "Looking back over the last 20 years, I want to thank everyone who has helped us to create such a robust business."
Group turnover rose 1% to £2.22bn. However, in 2011 the company said its turnover rose by 38% to £2.19bn, while the number of customers was also up by 22% to 3.36m.
'Metaphorical skyscraper'
Admiral owns brands such as Confused.com, Elephant.co.uk and Diamond.
Chief executive Henry Engelhardt, who was with the business when it sold its first policy over the phone in 1993, said he believes the next 20 years will make the first 20 "seem downright pedestrian".
He added: "We've done the heavy lifting: the first 20 years. We've put the hole in the ground and we've got the cranes in place. All that's left to do is to build the metaphorical skyscraper."
Mr Engelhardt said the company, which provides cover for around 3.5 million vehicles, refused to chase policyholder growth at the expense of profits.
He added: "Prices in the market fell more than 10% in 2012. We chased it some of the way down but not all the way down. As a result we kept some integrity with regard to margin."
He said Confused.com continued to face challenging conditions, reflecting a saturated market and the reduced motivation for motorists to shop around if they see their renewal rate had fallen.
However, Confused grew profits for the first time in four years in 2012, up £2.1m to £18.2m.