RS Thomas: Centenary since his birth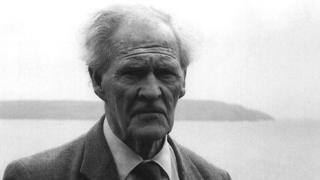 On the centenary of the birth of one of Wales' best known poets, RS Thomas, writer and broadcaster Phil Carradice takes a look at the man and his work.
Thomas was a rather austere, even bleak man, who learned to speak Welsh as an adult.
While he wrote prose in his adopted language, he wrote his poetry in English.
This inability to express himself poetically in Welsh was partly responsible for an inner turmoil that can be seen in much of his later work.
Ronald Stuart Thomas was born in Cardiff in 1913 and grew up as an English speaking child in Holyhead on Anglesey.
He trained in Cardiff as a priest for the Church in Wales. It was his time in Radnorshire, working as a parish clergyman, that stimulated some of his earliest and most memorable poetry.
The descriptions of hill farmers and "men of the land," notably Iago Prytherch and Cynddylan on his tractor, remain powerful images more than 50 years after they were first written.
He held several parish positions, in various parts of Wales, but for much of his later life RS Thomas lived at the very tip of the Llyn Peninsula at Aberdaron.
The rugged nature of the land and the potential eclipse of the Welsh way of life with which he identified helped shape both his creative writing and his character.
To many, RS Thomas was a much more significant literary figure than his more famous namesake Dylan.
He was certainly light years away in his approach to life and in the nature of his verse which, like RS himself, is hard edged, deep and essentially spiritual.
His early poems, rooted in the rural atmosphere of mid Wales, are relatively easy to read compared to later works such as H'm, in which the writer posed questions that he himself could not answer.
Thomas was committed to the cause of Wales as a nation whilst also being a fervent pacifist.
He certainly did not tolerate fools gladly but was himself always searching for a reason behind his faith and behind his approach to life.
Modern society and the 20th Century way of life did not greatly appeal to Thomas - he was at home in his remote corner of north Wales in much the same way as Iago Prytherch had been at home on his hill farm.
Thomas wrote his autobiography Neb ("No-one" in English) in 1985, the writer referring to himself in the third person - part of Thomas's alienation from the modern world.
Towards the end of the 20th Century he was, as the most distinguished of Welsh writers, nominated for the Nobel prize for Literature, a nomination that was ultimately unsuccessful.
RS Thomas died on 25 September 2000 at his home at Pentrefelin near Criccieth. His ashes were buried in the grounds of St John's Church in Porthmadog.
He remains a striking and highly effective poet, not an easy writer to read and understand but a man who was serious and heartfelt in all his beliefs.
RS Thomas's drama The Minister will be heard on BBC Radio Four on 29 March at 14:15 GMT to mark the centenary of his birth.