Hywel Dda Health Board put child at risk, ombudsman says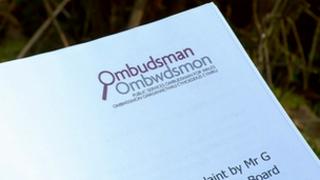 A local health board has been told it put a girl at risk after threats against her life were not acted on.
A damning report by the Public Services Ombudsman seen by BBC Wales says Hywel Dda Local Health Board failed the family four times.
The girl's father claims child protection was "not on the radar" of the health board despite a hospital patient making clear threats.
The health board said it could not comment.
The complainant - identified in the report as Mr G - said that the hospital repeatedly failed to consider and act upon a known risk of harm to his daughter.
Speaking to BBC Wales, Mr G says that Hywel Dda was completely negligent when a patient threatened to kill his daughter.
He said: "Child protection was not even on the health board's radar.
"On one occasion the patient was discharged from hospital and their only way of dealing with the risk was to write to me by second-class post, telling me that there were threats to my daughter's life.
"I just couldn't understand how anybody could be so utterly negligent."
'Lack of understanding'
The ombudsman's report says that immediate, formal child protection referrals should have been made on four separate occasions.
It adds: "Not doing so fails to accord with the law, statutory guidance, professional guidance and common sense. Moreover, it potentially put [his daughter] at risk.
"Not making referrals on various occasions shows a complete lack of understanding of what should trigger a [child protection] referral.
Mr G was not warned when the patient was allowed unsupervised leave from hospital, despite the threats to his daughter, and health board staff did not make a child protection referral.
The report says that basic child protection measures were ignored.
It says that there are numerous examples of where the health board's decision making was flawed and put Mr G's daughter at unnecessary, additional risk.
Mr G said: "All my life I've believed in the idea of the health service and I want it to work - but how can you make it work if it's so fundamentally broken?
"It seems to be broken at every single level and I just can't begin to understand it. People have got to be held accountable."
The ombudsman states: "Law and guidance is clear concerning child protection.
"The All Wales Child Protection Procedures are unambiguous. Amongst other failings, health board staff acted, in large part, as if they did not exist."
The ombudsman agreed that Hywel Dda's response to Mr G's complaints was inadequate. Mr G said he was ignored.
He said: "I think their perception was 'we know best and we don't need anyone else to help us to do the right thing'.
"At the same time, they were absolutely ignorant in terms of child protection.
"Even when I sent them emails headed 'this is a child protection matter' they didn't respond.
'Dangerous practices'
"They just told me that I had to take my complaints to the complaints department, as though it was nothing to do with them.
"They even sent me a letter on one occasion to tell me that they didn't communicate by email."
The report recommends that within a month the board's chief executive, Prof Trevor Purt, writes a letter of apology on behalf of Hywel Dda to Mr G for the injustice he suffered.
Mr G has not received one, despite it being more than a month since the report was given to him.
Mr G says that the health board is putting other children at risk.
He said: "Their practices are very dangerous. In this case, fortunately, no harm has come, but that's luck. It's not because of any management of risk, it's just because it hasn't happened.
"What has to happen before something changes? What has to happen so children aren't being put at risk in this way?"
The ombudsman did recognise that the situation did present difficult and unusual challenges to health board staff.
Hywel Dda Health Board's director of primary care and mental health services Karen Howell said: "This is an ombudsman's report issued with restrictions and therefore we cannot comment further."
Simon Thomas, Plaid Cymru AM for Mid and West Wales, said the local health board needs to act urgently.
He said: "It's more than a wake up call here, it's a real emergency that Hywel Dda has to put right and has to be seen to put right.
"The procedures in place for child protection are absolute and they have to be followed. You can accept human error does happen but they were not followed on several occasions.
"I am concerned. It wasn't just a one-off mistake, there were several opportunities where things could have gone better."