Towy anglers urged to help remove Himalayan balsam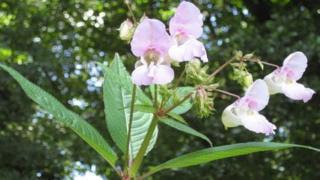 Fishermen on the River Towy in west Wales are being urged to join the battle against an invasive plant growing along riverbanks.
Experts say the Himalayan Balsam plant swamps native species.
It also impedes water flow and leaves river banks bare in winter leaving them prone to flood damage.
The flowers of the Impatiens glandulifera - first recorded in the UK in 1855 - is rich in nectar and so popular with bees.
Emyr Jenkins, from the Carmarthen Fishermen's Federation said: "Balsam can be a problem for fishermen because it can impede access to the riverbank.
"But then it is good for the bees, and I am a bee-keeper too, and last year there might not have been any honey in some places if it was not for this plant which is very nectar-rich."
Mr Jenkins said the plant dies down in winter leaving river banks exposed, and any flooding can damage the banks.
It spreads by seed, and it can be eradicated with determination, he added.
"As it does not have deep roots it is easy to pull it up during the growing season, and as long as you keep on top of it you should be able to clear it within five years."
Natural Resources Wales (NRW) is involved in projects to remove the plant from areas Special Scientific interest (SSi) such as at Cors Llyferin at Abersoch Golf club.
It was first identified at the golf club in October 2010 and then spread to between the watercourses and into the wet woodland area.
The NRW said that where it had colonised, it was out-competing the native plant species such as grey willow and rare copper moss.
"Removing this invasive species is not only important for our native plants, but also for tourism and leisure, as the site is enjoyed by golfers and people who visit the site especially for its unique plants and wildlife," said David Edwell from the NRW.