Wales weather: progress on roads but services suspended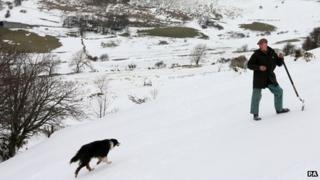 Significant progress is being made in clearing the large numbers of roads which are still impassable after last week's snow, say Denbighshire council.
Continuing low temperatures means the snow is failing to thaw quickly across north east Wales.
Flintshire council said the majority of waste and recycling collections have been suspended.
Forecasters say there is a risk of snow for the Easter weekend but the risk is now lower than previously thought.
Snow last Friday and Saturday disrupted travel and left thousands of people without power.
The worst-hit areas were Flintshire, Wrexham and Denbighshire although much of the country experienced some snow.
Ice was the main risk on Monday as freezing temperatures made roads and pavements potentially dangerous.
Some people in outlying villages say they cannot get out of their streets onto main roads because of the amount of snow.
Janine Jones, 37, who lives with her husband and four children in Gwynfryn near Wrexham, says there is one road out of the village that is passable but many residents cannot get to it.
"People can get in on one road but the people who live on Ffordd Uchaf, Ffordd Bryn Madoc and The Gors are all cut off," she said.
"At the deepest it's up over the top of the field walls. There's cars buried in it and there are eight or nine feet drifts.
"As a general guide, it's about 18 inches deep."
She said residents had been assured by Wrexham council a digger would be on hand to clear roads on Tuesday.
The Ponderosa cafe and bed and breakfast above the Horseshoe Pass in Llangollen should be getting ready for a busy Bank Holiday.
But guests have cancelled because of the weather and it might not be able to open.
Urgent visits
"I want to be optimistic but I can't see it happening," said Simon Clemence, who runs the business.
"The roads are just totally impassable from Llangollen."
William Jenkins, a high hill farmer from Manmoel near Blackwood, Caerphilly county, said there is little snow where he is but a cold, penetrating wind which leaves new born lambs at risk of being frozen to death.
He said: "We [hill top farmers] always suffer bad weather throughout the winter but this is so unseasonable, that's the problem now.
"If this came in January or February, it would be bad but, coming now, at the end of March, which should be spring, nature is playing a bad trick."
John Skelton a Red Cross volunteer in north Wales, said had been using its training and 4x4 vehicles to ensure around 200 hospital staff got to work, doctors and nurses could visit patients stuck at home and people with chronic medical conditions received their medicine.
He said: "It was quite a rewarding weekend. I think it showed people what the Red Cross do in their area.
"People are well aware of what we do around the world but in your local area it's nice to get out and let people see that we do help people in crisis even if it's on their doorstep."
Operations at Wrexham Maelor Hospital were cancelled last Friday but services are now returning to normal.
Flintshire council described the weather forecast for the week ahead as "challenging".
Many day centres were closed but the council said social care teams were ensuring that essential services were maintained and urgent visits made.
It said waste and recycling collections had been suspended and were unlikely to take place this week.
In Denbighshire, the Horseshoe Pass reopened on Tuesday morning following snow clearance work.
Other routes remain impassable, although the council said progress was being made.
Workers have been clearing Llangollen and Corwen town centres and the council said it was confident the streets would be cleared in time for the Easter weekend.
"This was an exceptional weather event and our highways staff were telling us they'd never seen conditions like this," said cabinet lead member for environment, Coun David Smith.
Wrexham council said its workers had been working flat-out and as well as clearing the snow were also helping farmers access livestock.
Elsewhere in north Wales, staff at Snowdon Mountain Railway said they were working hard to clear snow but were struggling to get the site open for Easter.
Forecasters say the weather is likely to remain cold for the rest of the week but will be largely dry with the occasional snow flurry.
A Met Office spokesman said: "The latest forecast for Easter weekend is mostly dry and cold but, with lighter winds, some low overnight temperatures are likely where there is snow on the ground, and sharp frosts.
"There is a risk of rain, sleet and snow in the south and south west but the risk of this is now lower that it was."