Steve Strange on David Bowie's love of new Visage album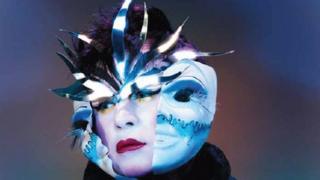 Like his long-time friend David Bowie, Steve Strange is back in the glare of publicity.
It has been 29 years since his band, Visage, last released an album, in the wake of New Romanticism, the Bowie-worshipping fashion and music cult which thrust Strange into the limelight.
And Bowie, it seems, was one of the first people to give the new songs the thumbs up.
Bowie is himself back in the limelight with The Next Day, his first album in 10 years.
Arts commentators have also been falling over themselves to offer tributes to David Bowie Is, an exhibition of the star's archive at the V&A.
Strange performed at the exhibition's opening night and the cameras caught him apparently taking a call from David Bowie as he approached on the museum's red carpet.
He said: "As I'm getting out of my car, I'm on the red carpet, and David Bowie rings - the phone was on speakerphone and everyone could hear him say 'I love your new album!'
"I'm sure everyone thought it was a PR stunt but it was completely true!"
Strange, 53, is perhaps still best known as the face of Visage who hit the singles charts in 1980 with Fade to Grey.
He founded the band with Rusty Egan and Midge Ure, co-writer of Band Aid's Do They Know it's Christmas and a stalwart of bands as diverse as Slik, Rich Kids and Ultravox.
The latest line-up features two new members alongside Strange and long-time bass player Steve Barnacle, plus contributions from ex-Simple Minds keyboard player Mick MacNeil and Dave Formula, the original Visage keyboardist.
The new album, Hearts and Knives, released at the end of May, is Strange's statement on where he and his band are now.
Born Steven Harrington, he was brought up in the south Wales valleys town of Newbridge, but as a teenager found local life too limiting.
"I was the freak of the village, long before Matt Lucas started doing those sketches. I was banned from school but I was a grade A student. It was ridiculous.
"I wasn't going to be a rugby player and I wasn't going to go down the pit, so I ran away. I was a creative spirit and I ran away."
And that led to the making of the former grammar school boy.
In London, he adopted the name Strange and, with Egan, became an artistic force at the Blitz club, insisting on a door policy designed to encourage New Romantics and discourage everyone else.
It was through these connections of fashion and image that he caught the attention of David Bowie, who picked him to feature in one his best known videos, Ashes to Ashes.
Strange - like Bowie - has always been obsessed with image.
One of the nine tracks on Hearts and Knives is called Shameless Fashion, Strange's take on the industry that the album notes say he has "lived and breathed".
And perhaps like anyone who was top of the pops three decades ago, Strange also has strong views about the myriad of ready-made acts out there.
"Manufactured teenage munchkins! Anyone could do it," is his verdict.
"There are a couple of good acts - I like Little Boots, Goldfrapp - but kids today are not creative. They are always on the internet. They are rotting their brains!"
Unlike many modern productions, he insists there are no software shortcuts on the sounds or vocals of Hearts and Knives.
"Steve Strange is back - and he's got his mojo!"
He is keen not to exhaust his mojo: London trips do take a toll, he says, claiming to sleep only four hours a night on them, such is his schedule.
However, for all his running away, Wales is still his sanctuary.
"I love London but I know when it's time to go home. I need to recharge my batteries. I miss my mother and my nephews. I miss the luxury of a warm bed."
So, when the knives are out, he knows where his heart is.