Monmouthshire council scraps clear bin bags plan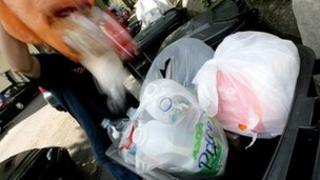 Plans for clear bin bags that would allow a council to check on what people throw away have been scrapped after opposition from hundreds.
Monmouthshire council hoped to use the bags instead of black ones to encourage recycling, hailing it as a UK first.
But it says it will now use opaque bags after concerns about snooping and private waste being on show.
Waste will still be monitored and council staff sent to talk to people deemed to not be recycling enough.
The council had previously announced plans to improve its recycling rates and reduce the cost of sending rubbish to landfill by bringing in the clear refuse bags to replace black bin bags for general waste.
It said it believed up to 70% of what was being thrown away was recyclable or food waste.
Under the proposals, /refuse collectors would have been able to look in the bags to see what exactly was being thrown away.
If any household was not recycling enough, waste-awareness officers would be sent to have an informal chat or an information leaflet would be given out about the benefits of being green.
However, the plans prompted opposition with an online petition being supported by over 800 people.
The council also received e-mails, letters and feedback on social media against the clear bags.
Instead, it has decided to use silver-coloured opaque bags, which will not be as see-through as clear bags but will still allow staff to check what is inside.
People will still be visited by officers if they are throwing away recyclable waste.
"I believe the opaque bags will still be a first for Wales," said a council spokesman.
"We need to make savings over the next few years and a key way of doing this is a reduction of landfill costs - charges and tax.
"We hope we will make savings of £1m in the next few years, although we don't expect people to change their habits overnight."
Limited bin collections
He said a lot of people complaining were worried that bin men would be "snooping" on them and that private waste, such as sanitary towels and condoms, would be on public show.
The council hopes the opaque bags will allay those concerns but will still ensure it can achieve its recycling aims.
The waste changes, which come into force in July, will also include limiting households to the collection of just two general refuse bags per fortnight.
Residents will also be charged £8 a year for the council to take away garden waste.
Monmouthshire council has to make savings of £16m over the next four years.
Welsh government figures show that local authorities in Wales recycled or composted 53% of waste they gathered in the three months from April to June last year.
Denbighshire council had the highest rate at 60.5%, and Rhondda Cynon Taf council (RCT) had the lowest rate with 44%.
Monmouthshire was the third best performing council at 58.1%, with Caerphilly second at 59.9%.