Call to give measles MMR jab in mass school vaccination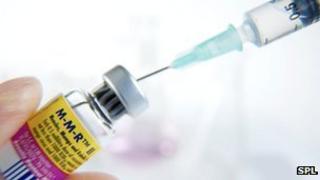 There has been a call for all pupils in Swansea schools to be vaccinated against measles after the Easter break.
Former consultant paediatrician Dr Dewi Evans says mass immunisation would be the best way of tackling the epidemic.
But Public Health Wales (PHW) said the MMR jab was needed now and waiting until after the holidays may be "one wait too long".
Latest figures show the number of cases have risen by more than 100 in a week, taking the total to 541 across Wales.
The majority of cases are in Swansea with cases reported in Abertawe Bro Morgannwg, Powys and Hywel Dda health board areas.
Dr Evans said he believed it was the best way to immunise as many children as possible.
"By immunising everybody, that's the best way of eradicating measles once and for all," Dr Evans told BBC Wales.
"There are thousands of children at risk."
'Sterling job'
He warned of a serious risk of someone dying as a result of contracting measles and said the easiest way of dealing with the issue was to vaccinate children at school in a technique known as "herd immunity".
"It is the best way of immunising as many children as possible in a short period of time," he said.
Schools are not due back until 15 April and PHW said it was "encouraged" by the numbers coming to GPs .
Dr Roland Salmon from PHW said over 500 children have been vaccinated at GP practices and clinics in the last few days.
He said medics had tried to start immunisation in schools in March but that children were not coming forward in sufficient numbers.
But he did not rule out school vaccinations in the future.
Dr Salmon cautioned parents not to delay in getting children immunised in anticipation of the MMR jab being offered in schools because that "might be one wait too long".
"General practitioners have done a sterling job so far.
"They are there all the time and they are trusted," he said.
"Going forward, doing a lot of schools at once time is going to be difficult... but schools are certainly one of the things we are actively considering."