Cardiff City promotion: Caution urged over football tourism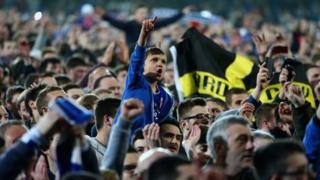 Tourism bosses have been warned not to expect an influx of visitors from Cardiff City's Premier League promotion despite the exposure it will bring.
Economics professor Calvin Jones, of Cardiff University, said there was no proven link between seeing a team on TV and deciding to visit that city.
He said some new jobs would be created but mostly in the stadium and related to transport.
There have been calls for the city to capitalise on football tourism.
The Premier League is said to be the most watched football league in the world, broadcast in 212 territories.
Visiting teams such as Manchester United and Arsenal will also bring larger numbers of supporters to games than clubs in the Championship, where Cardiff have played in recent years.
A study earlier this year suggested Swansea City's first season in the Premier League had generated £58m for the Welsh economy and created or protected 400 jobs.
Hotels, pubs, the city council and chamber of commerce all reported increased activity since 2011, it said.
There has also been a surge in applications from students applying for Swansea University.
But Prof Jones issued a note of caution, saying: "We should not get carried away.
"Even for the most successful teams, promotion to the Premier League has not really made a difference to the city.
"Yes, there will some jobs. There will be jobs for stewards, people involved in the general running of the stadium. There'll be jobs in transport, these are the main areas.
'Zero visibility'
"There may be a small spillover into wider cultural attractions, like Cardiff Castle for example."
Prof Jones also warned that Cardiff already experiences some of the benefits that Swansea enjoys from being in the Premier League.
"Swansea went from having almost zero visibility to being on TV screens, Swansea is now recognised in places it wasn't heard of before," he said.
"Recognition is important, but Cardiff already has that."
South Wales Chamber of Commerce was more optimistic, believing there were many opportunities.
"Cardiff now needs to develop a wider strategy to capitalise on football tourism, encouraging fans to stay and explore the city and surrounding areas, use local businesses and visit tourist attractions," said Graham Morgan.
"It also needs to reach out to those football fans who have traditionally watched the game on television, and encourage them to visit in person."
Mr Morgan said it was necessary for both Cardiff and Swansea to think globally and look beyond tourism.
"The Premier League is an international brand and both cities will be promoted across the world on a regular basis," he said.
"As such, we shouldn't just be looking at this as a tourism opportunity.
"Businesses which currently export should use their proximity to both cities as a way of opening doors when searching for new customers abroad."
The Bluebirds clinched their place in the Premier League with a draw against Charlton on Tuesday night.