Hindu Council of Wales launched at Senedd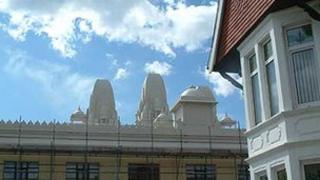 An organisation to promote Hindu culture, religion and values in Wales has been officially launched.
The Hindu Council of Wales (HCW) was established to give Hindu communities "one voice" and to promote better understanding of the culture.
The council will also aim to work with other faiths to promote "mutual understanding".
There are more than 10,400 Hindus living in Wales, according to latest figures.
The HCW chair Vimla Patel, secretary of the Sanatan Dharma Temple in Splott, Cardiff said the organisation was much needed.
She added: "There are other temples and groups all across Wales but there was no one voice to speak on our behalf."
The number of Hindus living in Wales has almost doubled in a decade to 10,434, according to the 2011 Census.
'Vibrant nation'
The highest numbers are in Cardiff (4,736), Swansea (780), Newport (685) and Wrexham (504).
Communities and Tackling Poverty Minister Huw Lewis, who launched the HCW at the Senedd, said modern Wales was built on diverse and multi-cultural communities and he strongly believed "that this is what makes Wales such a vibrant nation".
Radhika Kadaba, secretary of the HCW, said eight organisations currently made up its membership and two people from each group could sit on the council.
"The members are not elected and have been selected initially because we wanted a working committee to set up the council," she said.
"Over the coming months we will have proper elections according to our constitution."
Mrs Kadaba said the council was made up of temples, Hindu charities and community centres.
It includes organisations such as the Bhaktidham Wales charity which works towards "advancing the Hindu faith and traditions and educating people about Indian and Hindu culture".
Cardiff's Shree Swaminarayan and Sanatan Dharma Mandal temples are also members of the HCW.