Smart meters to save power customers £64 each across Wales, report says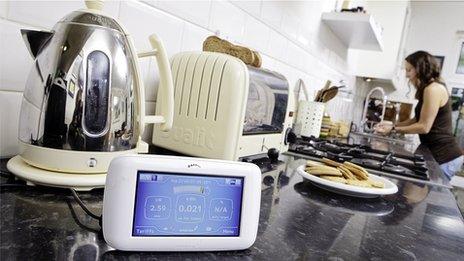 New smart energy meters being installed in Welsh homes could save customers about £64 a year each by ending estimated bills, British Gas says.
The company says the meters - which the UK government requires to be installed in all homes by 2019 - will save Wales' 1.3 million households £83m a year.
It has started supplying them to more than 142,000 homes in Cardiff.
Smart meters automatically send data on power use to suppliers, ending the need for manual meter readings.
They are due to be installed in 30 million UK homes by 2019, as well as businesses.
The report, by British Gas and business analysts Oxford Economics, predicts that households in Cardiff will save an estimated £9.1m a year, while those in Swansea will save £6.6m.
It says the average household in Wales will save £63.70 a year, based on a 5% reduction in the average dual fuel bill for gas and electricity in Wales.
British Gas says customers will only pay for the energy they use, putting an end to estimated bills.
Lynda Campbell, British Gas regional director, Wales, said: "Many families in Cardiff will be looking out for ways to help control their household bills and smart meters will help with this, bringing millions of pounds worth of savings to the city."
Stuart Rolland, managing director of British Gas Smart Metering, said the installation would "revolutionise home energy use in Cardiff by putting an end to estimated bills and making it possible to clearly see and understand the energy you're using as you're using it".
The technology is able to track when people are at home, how they spend their free time and even what medical devices they use.
The European Data Protection Supervisor has called for safeguards over how firms used the "massive collection" of consumers' data uploaded.
UK energy firms and ministers have previously said consumers' privacy will be protected.
Related Internet Links
The BBC is not responsible for the content of external sites.