Sunday Times Rich List: Michael Moritz hits Wales top spot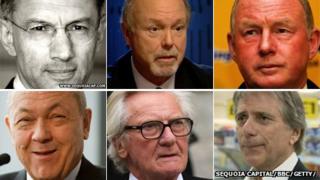 Cardiff-born billionaire Michael Moritz is Wales' richest person, according to an annual survey.
He has overtaken billionaire entrepreneur Sir Terry Matthews to gain the top spot of The Sunday Times Rich List.
Mr Moritz, who helped to put Google on the map, has an estimated wealth of £1.125bn.
The 59-year-old made his fortune by investing in internet companies including YouTube, LinkedIn and PayPal.
Mr Moritz, chairman of the US-based venture capital firm, Sequoia Capital, was in second place in 2012, with an estimated wealth of £1.082bn.
In 2013 he sits in 70th place in the UK.
Mr Moritz invested £2.89m in LinkedIn in 2003 and when it floated on the New York Stock Exchange in May 2011, that stake was worth more than £900m.
In July last year, Mr Moritz, who went to the now-closed Howardian High School in the Penylan area of Cardiff and was the only pupil in his year to go to Oxford University, donated £75m to the university to help students from poorer backgrounds.
The record-breaking donation meant Oxford could abolish an increase in tuition fees for students from low-income families.
Mr Mortiz studied history at Christ Church College and graduated in 1976. He immediately moved to the US where, after a stint working as a journalist for Time magazine, he found his incredible fortune.
In 1986, the father-of-two joined Sequoia Capital and never looked back.
In second place, Newport-born Sir Terry Matthews, owner of Celtic Manor Resort and who made his fortune in the computer and telecommunications industry, has an estimated wealth of £1.1bn.
Former deputy prime minister Michael Heseltine returned to the list in eighth place this year following a three year break.
He boasts an estimated fortune of £264m. In 2010 the former Conservative MP was worth £210m, but he slipped out.
Hayley Parsons, the managing director of insurance comparison website GoCompare, is listed with a fortune of £120m, which has increased from £95m last year, on the strength of the company being put up for sale.
Oscar-winning actress Catherine Zeta-Jones, who was born in Mumbles, was ranked 11th with an estimated wealth of £185m and singer Sir Tom Jones - thought to be worth £145m - was listed as 14th.
The list is based on identifiable wealth, including land, property and other assets, such as art and racehorses, or significant shares in publicly quoted companies. Money in bank accounts is not taken into account.
Ian Coxon, editor of list, told BBC Radio Wales: "The internet is making a lot of people rich now. And the owners of retailing, especially discount stores in the High Street are doing very well.
"Although Sir Terry Matthews has slipped a little in the list, and he's been pipped at the top spot, his wealth has gone up - he's added over £100m.
"Lord Heseltine is back in the list after two years. There had been some financial difficulties for his family firm Haymarket Publishing - but the company has turned around and he's back in again."