Missing April Jones search ends, almost 7 months on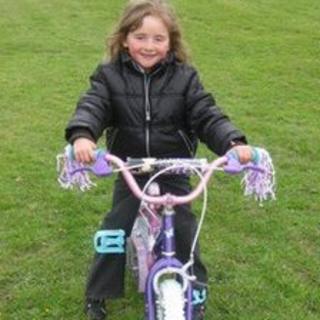 The search for missing five-year-old April Jones has ended after almost seven months, police have confirmed.
Officers from around the UK have been searching for April since she disappeared from near her home in Machynlleth, Powys, in October.
Searches of specific areas of land identified during the investigation were completed last Friday.
Mark Bridger, 47, denies abducting and murdering April as well as intending to pervert the course of justice.
April's disappearance sparked one of the largest police searches in UK history.
Since last October, specialist officers along with other forces from across the UK had been searching the area for April.
There were 17 search teams hunting on a weekly basis.
The search operation covered an area of 60 kilometres square, including more than 300 specific search areas.
It was done over "extremely challenging" terrain, officers said, including mountains, gorges, streams and waterfalls.
The force made a commitment to search for her until "all viable lines of inquiry were complete".
Throughout the search a range of resources were used, including police marine units, experts in searching confined spaces and mines, fire and rescue urban search and rescue teams, the coastguard and mountain rescue teams and specialist dogs teams from around the UK.
On Monday, a spokesman for Dyfed-Powys Police said: "Since the beginning of October, specialist officers from Dyfed-Powys Police, along with other forces from across the UK, have been searching the area in and around Machynlleth for five-year-old April Jones.
"The search areas identified during the course of the investigation were completed on Friday, 19 April.
"In addition, a reactive team of specialist officers are available to respond to any new information that is received."