Wales snow: Farmers' 4th and final week to bury animals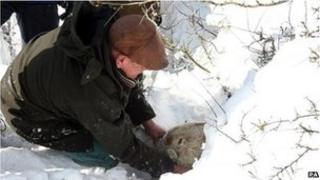 Farmers in Wales looking for dead livestock as the snow melt continues have been given a fourth and final week to locate and bury their animals.
Farms in parts of Conwy, Denbighshire, Wrexham, Gwynedd, Flintshire and Powys have been allowed to bury their own sheep, lambs and calves.
Natural Resources Minister Alun Davies also said farmers could use new hauliers to collect animal carcasses.
The Farmers Union of Wales said the move should apply to all Welsh farmers.
It is the fourth time the Welsh government has relaxed EU rules which require farmers to pay others to remove carcasses from their land.
The deadline, which was due to end at midnight on Tuesday, has been extended until 30 April in the worst-hit areas.
The relaxation in the use of hauliers to collect dead animals applies until midnight on 7 May, one week after the end of the derogation permitting burial in certain circumstances.
FUW president Emyr Jones criticised the decision to allow farmers to use different hauliers as "too little too late."
Farmers reported losing hundreds of lambs in deep snow in March.