Prestatyn fire deaths trial's closing speeches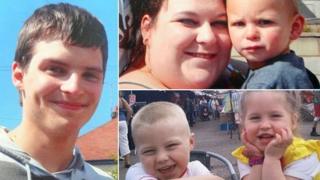 A woman killed five members of the same family in a house fire in an act "driven by a desire for revenge", a court has heard.
In his closing speech, Ian Murphy QC, prosecuting, said Melanie Smith, 43, "had all the ingredients of murder".
She denies murder and making threats to burn another woman's home.
Her defence barrister Stephen Riordan QC told Mold Crown Court that witnesses had lied when they linked her to the blaze in Prestatyn last October.
Prosecutor Mr Murphy told the court Ms Smith had the motive and opportunity to carry out the killings.
She had, he said, previously threatened to start a fire and had taken her opportunity "with deadly intent".
Lee-Anna Shiers, 20, her nephew Bailey, four, niece Skye, two, partner Liam Timbrell, 23, and 15-month-old son Charlie were all killed by the fire at her flat in Prestatyn on 19 October.
Mr Murphy said: "We say that she took that opportunity with deadly intent and to deadly effect."
He said a 999 call from victim Mr Timbrell at 22:00 BST showed he was initially relatively calm but within one minute and 15 seconds he realised it was a fire which could cost them their lives.
At that stage he was heard repeating twice: "Oh my God, we are going to die."
Mr Murphy said the defendant was lying when she claimed in evidence to have escaped from her ground floor bedroom through a back window.
He said she was trying to portray herself as the victim rather than the person who had started the fire.
Mr Murphy said: "There is clear and compelling evidence on which you can conclude that that she started the fire."
Previously, Ms Smith claimed many of the witnesses had lied but Mr Murphy said the jury had been presented with a clear and consistent picture of threats.
'Circumstantial case'
Ms Smith claimed 21 witnesses had lied.
But defending barrister Mr Riordan told the jury that they were all in what he called "an incestuous group" connected to Samantha Schofield, who the defendant believed was having an affair with her partner Stephen Clarkson.
He alleged that they were giving the jury "extensions of the same lie" and turning "gossip and tittle tattle into their own version of events."
Mr Riordan said Ms Smith was a woman of good character with no previous convictions.
She had never started a fire before and Mr Riordan suggested that "she obviously loves children and young people and has brought up five children of her own".
He insisted there was no direct evidence at all before the court to show how the fire started.
The prosecution case against her was all circumstantial, he added, and he said there was no reason for her to set fire to her own home.
The prosecution alleges Ms Smith started the fire in a row over a pushchair being left in the building's downstairs communal hallway.
Mr Murphy said Ms Smith set fire to it with a lighter.
Ms Smith has also denied making an earlier threat to burn the house of Samantha Schofield.
The judge, Mr Justice John Griffith-Williams, will sum up the case on Thursday morning and will then ask the jury to retire.
The trial continues.