Wales weather: Heavy snow could cost councils over £2m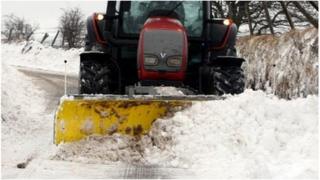 Councils in north Wales face a bill of at least £2m because of this winter's bad weather.
North Wales was badly-hit by heavy snow last month leaving Flintshire council with a £1m bill to clear roads and repair damage.
Gwynedd council says the weather could cost £600,000 more than it budgeted for while Denbighshire estimates its roads department alone will spend £200,000.
Some councils plan to ask the Welsh government for extra money.
Of the councils that responded to BBC Wales, Flintshire said it faced a £1m bill, which includes clearing roads, removing fallen trees and repairing council houses.
Gwynedd council says an £600,000 was spent over its winter budget, but that also covers the cost of dealing with snow in January.
Denbighshire's highways costs alone were £200,000 and it is still calculating other expenses, while the bill for winter maintenance in Wrexham is £175,000 with other costs still being calculated.
Councils say the snow was unusual, not just because it was so heavy but because it stayed on the ground for so long.
In some areas of Flintshire, snow drifts of 20ft (6m) were reported and across many areas the snow hardened in freezing temperatures, prolonging problems.
Many roads were blocked and there were problems with public transport, as well fallen trees and damage to properties.