Celtic Media Festival in Swansea attracts influential names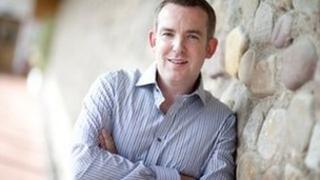 Some of the most influential figures from the broadcasting and film industries are attending the Celtic Media Festival in Swansea.
The event aims to celebrate excellence in film, television, radio and digital media from Scotland, Ireland, Wales, Cornwall, Brittany and the Isle of Man.
Ron Jones, founder of independent television company Tinopolis, and Rhodri Talfan Davies, director of BBC Cymru Wales, are among those speaking.
The festival is in its 34th year.
The three-day celebration promotes the languages and cultures of the Celtic nations and regions.
It was launched at the Marriott Hotel on Wednesday and it is hoped the event will raise Swansea's profile as a city of culture.
Among those taking part in the festival are Birger Larsen, director of the critically acclaimed Danish television drama The Killing, along with Guto Harri, News International's director of communications, and Peter Devlin, an Oscar nominee who has worked as a sound mixer on films including Star Trek and Transformers.
Mr Jones, who founded Llanelli-based Tinopolis - one of the UK's largest television production companies - will give the keynote speech on Thursday.
Later in the day, Mr Talfan Davies will look at the demographic challenges facing the Welsh language station BBC Radio Cymru.
Film fans will also be able to attend screenings of the four productions nominated in this year's feature films category of the prestigious Bronze Torc Awards, which are presented during the festival.
The free screenings will be held at the National Waterfront Museum.
Swansea council leader David Phillips said it was "terrific news" that the city was hosting the festival for the very first time.
"It means hundreds of delegates will be staying here, which will help raise Swansea's profile as a leading city of culture," he said.
"The programme of speakers and events will make for a fascinating occasion.
"Major names from the worlds of film, TV and the media are coming here."
The annual festival is held in different places each year, with last year's event taking place in Londonderry, Northern Ireland.