The man who sent Dylan Thomas into space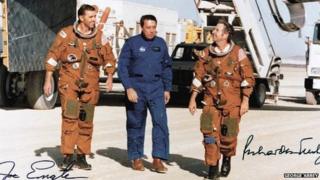 As a senior Nasa official, George Abbey was the man responsible for selecting astronauts for shuttle missions during the height of American space exploration.
But it was his love for Wales that led to a more unusual spaceflight - sending the Welsh poet Dylan Thomas into orbit.
His Welsh-speaking mother was born in Laugharne, Carmarthenshire - also home to Thomas - and Mr Abbey grew up in America with a strong sense of his Welsh roots.
After he was made director of Nasa's research hub, the Johnson Space Centre, in Houston, Texas, he arranged for a photograph of the poet to be taken from a museum in Laugharne into space on board the Space Shuttle Columbia in 1998 - exactly 15 years ago.
He later returned it to the town to go on public display at The Boathouse - Thomas' former home and now a museum - along with a dedication giving details of its space journey.
"It was very much a treasured picture and I think the museum was worried they wouldn't get it back," said Mr Abbey, speaking at Swansea University where he was giving the annual Richard Burton lecture.
"I thought it would be a good thing for the museum there. They would have something that had actually been in space that was related to Dylan.
"If you look at his writings and what he's done for Wales, it has great significance and I think it's fantastic to have put Dylan in space."
Mr Abbey's mother Bridget - who later changed her name to Brenta - was one of five sisters brought up in Laugharne.
The family's ties to the town - and its most famous resident - are strong, with a cousin, Dick Lewis, the local milkman, being a close friend of Thomas and his wife Caitlin.
However, Mr Abbey's mother later moved to London where she met her future husband, Sam Abbey, who was London-born but had emigrated to Canada. He had returned to London after being injured in France while serving in World War I.
The couple's first son was born in Wales but the couple then moved to Canada and onto Seattle in the United States, where Mr Abbey was born.
'Welsh visitors'
However, the family home was strongly influenced by Wales, with Mr Abbey fascinated whenever his mother spoke in her native tongue.
"We had a lot of Welsh visitors at home when I was growing up, from Wales and around the world," he said.
"And my mother would enjoy speaking Welsh with the sea men who came into Seattle.
"My mother and father also had magazines and papers coming from the UK every month. We always heard a lot about what was going on."
But it was the world of space exploration that truly captured Mr Abbey's imagination, prompted by his love of watching aeroplanes flying from the Boeing Company base in the area.
He applied to be an astronaut while serving in the US Air Force.
He was not chosen but went on to become one of the most significant figures at Nasa, with a career spanning 39 years from the early days of the Apollo missions right through to the development of the international space station.
He was part of the missions operations team which was instrumental in bringing Apollo 13, crippled by an onboard explosion, back to earth in one piece, saving the lives of all on board.
The story was the basis for the Ron Howard film Apollo 13, starring Tom Hanks and Ed Harris.
President Richard Nixon presented Mr Abbey with the Presidential Medal of Freedom, the US's highest civilian award, for his role in the operation.
In the 1980s he became responsible for selecting the crew members that flew during the early years of the space shuttle programme and put the first woman in space.
He finally became director of Nasa's Johnson Space Centre in 1996, becoming a central figure in the development of the international space station.
Photographs from space
Alongside his passion for space, he maintained his interest in his mother's homeland.
During his time at Nasa he used to ask astronauts to take photographs of Wales from space.
Now, he says, the space station makes it much easier to get pictures from all over the world.
"There are a lot of pictures of Wales, although it would be hard to single out which is the most photographed nation from space," he added.
"The space station flies over Wales quite frequently, along with many other parts of the world, and the pictures taken are useful to observe environmental changes."
Mr Abbey, now 80, retired from Nasa in 2001, becoming a senior fellow in space policy at Baker Institute at Rice University in Houston.
He is a regular visitor to Wales, with relatives still in Laugharne, along with in Cardiff and St Davids, Pembrokeshire.
He is also an honorary fellow at Swansea University, where his son James Abbey works.
But he still has links with space, with modern technology helping to make contact easier than ever.
"It continues to surprise me, when I'm sitting in Starbucks and someone calls me from space," he added.
"One of my friends, the Russian cosmonaut, Yuri Malenchenko, even rang me from space to wish me happy birthday."