Churches turning into affordable homes talks held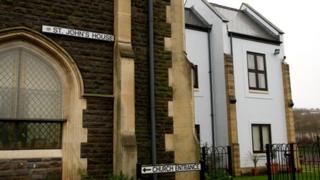 Turning empty church buildings or unused land into affordable housing will be discussed later.
The Church in Wales conference will look to encourage congregations to think about how space can be used for homes.
The aim is for churches, church halls and vicarages, which are no longer used because of falling congregations, to be offered for conversion into homes.
The Church in Wales believes it could meet housing needs and raise income.
It added that one of its churches closes every month in Wales, mainly because the number of people using them is falling.
The project Faith in Affordable Housing will be the focus of the conference in Cardiff which is being jointly hosted by charity Housing Justice.
It will also be a chance for people working in local authority housing or planning departments and other housing providers to learn more about church land and buildings.
Alex Glanville, head of property services at Church in Wales, said: "This is an exciting project which could benefit people in desperate need of housing.
"It will also help churches to explore opportunities to free up unused land or space to benefit communities.
"For many people in Wales the notion that there is still poverty and homelessness in our country may be unbelievable.
"Yet the number of homeless and poorly housed people in Wales is rising fast and charities are calling for urgent action now to prevent a major housing crisis."
Churches sold
He added that many churches were built 150 years ago and redundant ones could be leased or sold to housing associations with the funds going back into the ministry.
Since 2007, the Church in Wales has sold four churches to housing associations and has a further six in the process of being sold or under consideration.
A report into the future of the Church in Wales published last July looked into how the church could adapt to cope with the decline in clergy, falling congregations, a surplus number of churches and a large repair bill for its buildings.
Sharon Lee, project officer for Faith in Affordable Housing in Wales, said: "This is an important project which will see many new homes built across Wales for those in housing need.
"It's exciting to see the Church joining with the housing sector with a common purpose, to provide good quality homes.
"The sale of surplus church land and property also releases finances for the Church to direct into other ministries, so the benefits will be far reaching."
Last month, Shelter Cymru said Wales needs 4,000 new affordable homes a year just to meet current demand.