Richer elderly could give benefits to charity - Glyn Davies MP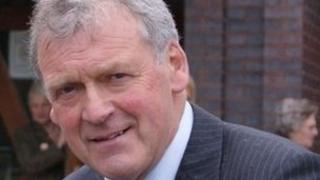 A Welsh Conservative MP has rejected a cabinet minister's call for well-off pensioners to return any unwanted benefits.
Work and Pensions Secretary has said Iain Duncan Smith said benefits to help with fuel bills, TV licences or free travel could be paid back.
But Montgomeryshire MP Glyn Davies said they should give spare cash to local charity rather than to the government.
Mr Davies called for a "big debate" on benefits for the better-off.
"If people feel that they want to give away their money because they don't need it, and there are quite a lot of people in that position, I think they can give it away to local charities," Mr Davies told the BBC's Sunday Politics Wales.
"It's local charities that are under pressure at the moment and I'd certainly recommend giving money to local charities before I'd recommend giving it back to the government".
Prime Minister David Cameron has already said the benefits would be protected for the entirety of this Parliament, including for the year 2015-16.
Mr Duncan Smith told the Sunday Telegraph he would "encourage" people who do not need such financial support "to hand it back".
He urged wealthier pensioners to repay the money to the Treasury.
"It is up to them - if they don't want it - to hand it back," he said.
Plaid Cymru's Treasury spokesman, Jonathan Edwards, said Mr Duncan Smith's proposal had not been well thought out.
"What's he proposing? That when pensioners use a bus they should send a cheque to the Department of Work and Pensions?" he said.
"If he's serious about removing some of these benefits then he needs to legislate, and as a supporter of universal benefits, I'll have the pleasure of voting against it."
Among the benefits is the winter fuel allowance of between £100 and £300 tax-free to help people who have reached the state pension age with heating bills.
A free TV licence, worth £145.50 for a colour set, is provided for people aged 75 or over.
Older people can also take advantage of different free bus travel schemes in the UK.
A Department for Work and Pensions spokeswoman said people had always been able to contact the department if they no longer wanted to receive a benefit.