April Jones case: Jury selected in Mark Bridger trial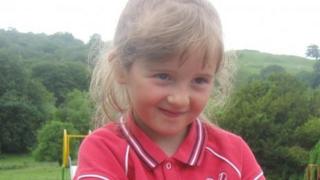 Nine women and three men have been selected to form the jury in the trial of the man accused of murdering missing five-year-old April Jones.
Mark Bridger, 47, from Ceinws, Machynlleth, Powys, denies abducting and murdering April, and intending to pervert the course of justice.
April went missing as she played with friends near her home in Machynlleth on 1 October and has never been found.
Her disappearance sparked one of the largest police searches in UK history.
Mr Bridger, wearing grey trousers, a short-sleeved blue shirt and tie, and flanked by two prison guards, stood and listened as each jury member swore their oath.
The jury was also read the charges.
Mr Justice John Griffith Williams told them they must not discuss the case with anyone.
"You each owe a duty of confidentiality," he said, adding the case must be tried on the evidence alone and they must resist any temptation to search the web in relation to the case.
He reminded the jury that any breach of court rules could result in them being held in contempt of court.
April's parents Coral and Paul Jones were seated in the front row of the public gallery throughout the morning's proceedings.
Both were wearing pink ribbons, which became the symbol of the search for their missing daughter following her disappearance.
The jury selection process was started by the judge on Monday.
He told the initial pool of 50 that nobody with any present or past connection with the Machynlleth area should sit on the trial jury.
"And certainly no connection which would cause concern about that juror sitting on the case," he added.
The potential jury members were told arrangements had been made for the jury to go to Machynlleth on Thursday to visit various sites.
The trial could last until the middle of June.