Wrexham-Newport play-off at Wembley for two fans at 96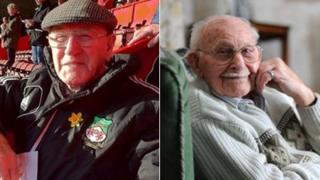 Football fans Tom Hughes and Ron Jones were born within months of each other in 1917 at opposite ends of Wales.
As far as they know they have never met. But they hope to put that right on Sunday as both 96-year-olds have tickets in the royal box at Wembley for the Blue Square Bet Premier play-off final between Wrexham and Newport County.
It is a crucial game for each club, who hope to end their exile from the Football League.
That is a height each thought they might never see their teams reach again after years of financial troubles and poor results in both north and south Wales.
But one of them will see their dreams fulfilled.
Wrexham's Tom Hughes said: "I thought I'd had all the football luck I was due in my lifetime back in March when we won the FA Trophy against Grimsby.
"Talk about buses - I wait 92 years for us to get to Wembley and now we're there twice in two months."
Newport's Ron Jones has weightier matters on his mind.
"Back when we went bust in the 1980s I said that I wasn't going to die until I saw Newport County back where they belong in the Football League: that's looking a bit rash now.
"I'd love to see them do it on Sunday but yes, after saying that, perhaps there'll be a tiny bit of me which would be relieved if Wrexham win."
A return to the Football League would represent a remarkable turnaround for both clubs.
Newport went bust in 1989 but after reforming and refusing to join the Welsh League, they were forced by the Football Association of Wales to play their home matches outside Wales. That was 85 miles away at Moreton-in-Marsh, Gloucestershire as they were playing in the Hellenic League.
Went bust
Wrexham lasted almost 20 years longer in the league, but they too succumbed to the mismanagement of a succession of owners. They narrowly avoided winding-up orders and eviction notices from their Racecourse Ground home and were eventually bought by the fans.
So it is hardly surprising that neither of the lifelong fans can believe that they now find themselves one match away from the Football League.
"Both teams have been through so much over the years, but that's the joy of supporting a lower league team," said Mr Jones.
Mr Hughes said: "You could have made a film out of the tribulations of Wrexham over the years, but Newport have been just the same. So whatever the score, it'll be a victory for Welsh football, and fans like us."
Mr Hughes first watched Wrexham as a four-year-old in 1921, the first of the team's 87-season spell in the Football League. That lasted until relegation in 2008.
But Mr Jones did not pay his first visit to Newport's former Somerton Park home until his seventh birthday in 1924.
Memorable match
Football played a key part in both men managing to survive the mental scars of their experiences during World War II with Mr Hughes even enjoying a kickaround on the beaches of Dunkirk.
However Mr Jones' wartime experience of football was more unusual as he was part of a group who set up a league within a prisoner of war camp at Auschwitz.
After the war both men settled down and had families. A combined seven generations of family will be accompanying the two men to Wembley.
Former steelworker Mr Jones said that until now his most memorable match was in 1981 when Newport reached the European Cup Winners' Cup quarter-final against German side Carl Zeiss Jena.
Mr Hughes, an ex-paramedic, highlights the 7-1 victory over Rotherham to win promotion to the old Division Two (the current Championship) in 1978.
"Whoever wins on Sunday, I'll be delighted to shake Ron's hand and buy him a drink," said Mr Hughes.
"I can't wait to see if I can get to meet Tom on Sunday, and exchange a few stories," Mr Jones added.