Welsh football rides on the crest of a wave in 2013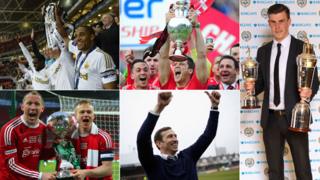 Sunday saw an emotional return to the Football League for Newport County at Wembley, while Cardiff City celebrated promotion to the Premier League with an open top bus tour.
Whoever claimed victory in the Conference play-off final, Welsh football was a certain winner, with Newport triumphant in what had been dubbed the "million pound match" with Wrexham.
It brought down the curtain on what has been an extraordinarily successful season in the history of Welsh football.
Cardiff City's promotion to the Premier League would have been historic in its own right.
But Swansea City won their first major trophy, the Capital One Cup, and became the first Welsh club to qualify for European competition through the English pyramid.
On top of that, Cardiff-born Gareth Bale capped off another superb season for Tottenham Hotspur and Wales by winning Player of the Year awards from both his fellow professionals and from football writers.
Despite Sunday's defeat, Wrexham could console themselves having picked up the FA Trophy at Wembley a few weeks before.
Newport return to the Football League for the 2013/2014 season after a 25-year absence, in what has been a long road back from oblivion.
And Merthyr Town are in with a chance of a third successive promotion to restore them to the level which they left in 2010 after going out of business - the Southern League Premier Division, with their own play-off final on Monday.
"We have never had it so good," said Welsh sporting and cultural historian Professor Peter Stead.
"When [Prime Minister] Harold Macmillan made his famous speech in 1957, he could have been talking about this season of Welsh football.
"Because in the same way as Macmillan told us we'd never had it so good, he also warned us not to become over-optimistic, and that's precisely where we are now."
"Welsh football is just beginning to find its true identity, and emerge out from under the shadow of rugby, but let's not get carried away, as only one or two setbacks could put us back in the old spiral."
'Stumbled'
Prof Stead believes that Wales has previously boasted sides of the calibre of the current Swansea and Cardiff teams, although they were judged against the yardstick of Welsh rugby.
He argues that when the Cardiff team of the 1960s or Swansea during the early 1980s stumbled, the public withdrew their support and investment and previous golden opportunities were lost.
But he believes 2013 does represent another golden opportunity.
"You only have to look at what the stories on your website would have been this time a decade ago," he added.
"Cardiff living beyond their means, Swansea dodging relegation out of the Football League, Wrexham in and out of the high court every week to prove they actually owned the Racecourse - no sane person would have predicted that we'd have progressed this far in just 10 years.
"So if we do stumble along the way in 2014, let's keep the faith and the investment this time, and not just go back to saying 'I knew it couldn't last'."
Former Swansea, Cardiff and Wales striker Ian Walsh believes Wales had to go there to come back.
"I don't think that there's any coincidence between where we are in 2013 and where we were in 2003," he said.
"Living beyond our means and looking for short-term solutions to problems was clearly killing the game here.
"In some ways we shouldn't be surprised at the success we're starting to see.
"The likes of Ben Davies (Swansea City), Joe Allen (Liverpool), Lee Evans (Newport County) and Theo Wharton (Cardiff City) are the product of 10 years' worth of going back to basics and investing in the grass roots of our clubs."
The BBC Wales pundit said that while there was still a long way to go before either Wrexham or Newport can emulate Swansea and Cardiff's achievements, there was nevertheless a trickle-down effect.
"Who says Newport or Wrexham can't one day be Premier League sides? Look where Swansea were," he said.
"But there's an even more immediate benefit than that. In the Premier League, the academies at Swansea and Cardiff are going to be turning out more high-quality youngsters than they'll know what to do with.
"And if we're starting to see a unified Welsh football strategy, then it makes sense to see those players kept within the system here, for the good of the national team."