RS Thomas centenary celebrated by Bangor Cathedral service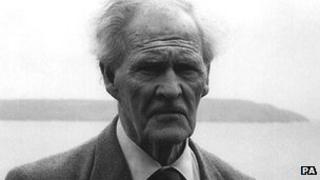 A weekend marking the centenary of the birth of the poet RS Thomas has seen a service at Bangor Cathedral.
The Archbishop of Wales, Dr Barry Morgan, gave the address at the service which included readings from Thomas's English poetry and his Welsh prose.
Thomas, who died aged 87 in 2000, was a Church in Wales minister in rural north and mid Wales for much of his life.
Parishioners in Aberdaron, Gwynedd, his last parish, will hold a walk on Sunday to mark the celebrations for his life.
On Friday evening, Dr Morgan, who knew both RS Thomas and the painter Sir Kyffin Williams, gave the annual Kyffin Williams Memorial Lecture at Oriel Mon in Llangefni, Anglesey, where he compared the two men.
Thomas was born in Cardiff in 1913 and grew up as an English-speaking child in Holyhead on Anglesey.
He learned to speak Welsh as an adult and wrote prose in Welsh but his poetry in English.
During a writing career which spanned 50 years he wrote more than 20 volumes of poetry.
He was widely regarded as the best religious poet of his time.
In a statement, the Reverend Canon Robert Townsend, director of education and communications officer for the diocese of Bangor, said: "RS Thomas is widely recognised as the major British religious poet of the later 20th Century.
"His poems challenge, move and inspire readers throughout the world.
"It is fitting that Bangor in particular should honour this distinguished Welsh priest, who grew up on Anglesey, studied at the city's university, and spent the last part of his ministry at Aberdaron in the diocese of Bangor."
Dr Morgan said: "RS Thomas continues to articulate through his poetry questions that are inscribed on the heart of most Christian pilgrims in their search for meaning and truth.
"We search for God and feel Him near at hand, only then to blink and find Him gone.
"This poetry persuades us that we are not alone in this experience of faith - the poet has been there before us."
Later this month, the Hay Festival, the annual literary event in Hay-on-Wye, will also honour RS Thomas.