South Wales specialist hospital care plans to be revealed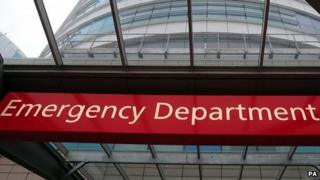 Plans for major changes to the way some specialist hospital care is delivered in south Wales will be unveiled later.
Health officials believe some services are spread too thinly and should be centralised in four or five hospitals instead.
They include accident and emergency and care for premature babies and children.
Five health boards have been drawing up the proposals, which include hospitals from Swansea, Cardiff and Newport, since the start of 2012.
They argue that the changes are essential to ensure hospital care meets UK-wide professional standards and to deal with issues such as a shortage of doctors, an ageing population and financial pressures.
The plans will concentrate on the following services:
Consultant-led maternity care (obstetrics)
Specialist baby care (neonatal)
Specialist children's care (paediatrics)
Emergency medicine (A&E)
Currently eight hospitals in the region provide one or more of these services.
But senior health officials warn this set-up is unsustainable.
Aneurin Bevan Health Board (ABMU) medical director Dr Grant Robinson said: "We cannot continue to provide all these services in every location across south Wales.
"We need to concentrate these services to ensure all patients receive safe and sustainable care.
"Our clinicians believe that the best way to do this, while improving safety and the standard of care patients receive, is to concentrate these clinical services in fewer hospitals - either four or five."
The health boards have been evaluating since September whether concentrating all those services in four or five centres would be most suitable.
The centres would include the University Hospital of Wales (UHW) in Cardiff, Morriston Hospital near Swansea and a new hospital to be built at Llanfrechfa Grange near Cwmbran.
This would incorporate some services from Nevill Hall hospital in Abergavenny and the Royal Gwent hospital in Newport.
Prince Charles Hospital in Merthyr Tydfil, the Princess of Wales Hospital in Bridgend or the Royal Glamorgan near Llantrisant would be the fourth or fifth centre.
Air ambulances
Managers will reveal their preferred options on Wednesday.
But there are strong indications that they are likely to recommend that some services should be taken away from the Royal Glamorgan hospital.
However, other options will be included in the consultation document.
The proposals are also likely to include plans to set up a specialist trauma centre to treat the most urgent accident and emergency cases - for example injuries and accidents that air ambulances attend.
This could be based at a single site - the UHW in Cardiff or shared with Morriston Hospital in Swansea.
The plans will be put out to formal public consultation.
In a joint statement, the bosses of the five health boards said they were eager to listen to public opinion.
They said the ideas had been developed with those on the NHS frontline and the different scenarios had already been discussed with the public over three months last year.
"We carried out this engagement because we wanted to hear the views of the public at an early point in the process - a clear majority said they understood why services need to change and supported the ideas," they said.
"Following agreement by all the boards to proceed to consultation, there will be a full and open process to listen to and consider the public's views about all the options."
But opposition politicians have concerns that the proposals would see some services such as A&E downgraded at a time of unprecedented demand.
Response
Betsi Cadwaladr Health Board in north Wales faced a storm of local criticism when it announced plans to move high level intensive care for babies to an English hospital.
After the public consultation was completed, the first minister intervened to undertake a review of the decision to see whether the services could be retained in Wales after all.
And campaigners fighting to protect the A&E department at Llanelli's Prince Philip Hospital have been granted legal aid to seek a judicial review of decision by Hywel Dda Health Board to make changes to emergency care at the hospital.
The Welsh government is also considering its response after the west Wales patients watchdog - Hywel Dda Community Health Council (CHC) - referred elements of the health board's plans to the health minister for a decision.
The CHC had previously been instructed by the Welsh government to restart negotiations with health managers.