Carwyn Jones warns of 'painful' spending decisions ahead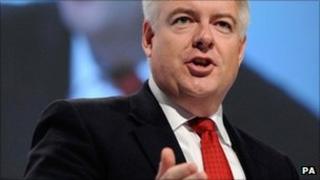 The first minister has signalled further cuts to Welsh public spending, warning of "painful" decisions ahead.
Carwyn Jones was addressing the Wales TUC conference.
He told delegates his government was braced for further cuts in funding from Westminster as a result of next month's spending review.
He said that to maintain spending on health, education and job creation, ministers were currently discussing "difficult" decisions in other areas.
Health spending accounts for more than 40% of the Welsh government's budget, with education and economic development also significant expenditure areas.
Mr Jones warned that on current forecasts he and his fellow ministers will no longer be able to fund all the programmes and projects currently in place.
The Welsh government's budget is around £15bn a year but has been subject to reductions since 2010, with infrastructure spending reduced substantially.
'Future reality'
Speaking later in the assembly chamber, Local Government Minister Lesley Griffiths warned councils to expect deeper cuts than in previous years because the spending review would "further reduce" Welsh ministers' finances.
She told AMs: "We will not be able to protect local authority budgets as in recent years, so the financial reductions experienced by local government in England signal the future reality for Wales.
"Authorities need immediate and radical short-term financial and service planning to align public services to the lower levels of resources which will be available in future," she warned.
Chancellor George Osborne is due to unveil his spending plans for 2015-16 on 26 June.
He has asked all Whitehall departments to come up with savings plans - some of which will impact directly on the Welsh budget via the Barnett formula.