Royal Glamorgan A&E downgrade is 'not guaranteed'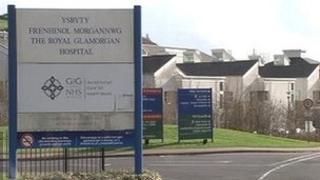 Radical NHS changes that could see an A&E unit downgraded at a south Wales hospital are not guaranteed to go ahead, a health watchdog says.
The Royal Glamorgan Hospital in Llantrisant could stop treating serious A&E cases under plans to centralise some specialist services.
The Welsh NHS Confederation, which represents health boards, said hospital resources were spread too thinly.
It added that services were not as good as they could be.
Speaking on BBC Radio Wales, the confederation's director Helen Birtwhistle said: "We need change because we simply can't continue to provide services in the same way for the benefit of patients.
"At the moment we're spreading our resources far too thinly.
"That's doctors, nurses, paramedics, all sorts of staff, as well as financial resources across too many sites and it simply means services are not the best quality they should be. We're not meeting all the standards that we should be."
The Royal Glamorgan would also lose consultant-led maternity care and specialist baby care in the proposals.
They would be relocated to other hospitals in Cardiff, Swansea, Merthyr Tydfil, Bridgend and to a new hospital near Cwmbran under the "best-fit" option outlined by the five health boards behind the plans.
They argue the changes are needed to ensure hospital care meets UK-wide professional standards and to deal with issues like a shortage of doctors, an ageing population and financial pressures.
But the proposals have provoked "passionate" opposition from some Rhondda Cynon Taf (RCT) residents, said Mike Powell, Liberal Democrat councillor for Pontypridd.
A meeting between the health boards and RCT councillors on Thursday was likely to be "stormy", he said.
"I've had 30 to 40 people contact me in the last few days with various concerns, such as 'What would happen if my baby was born prematurely, what happens if someone has a heart attack?'" Mr Powell said.
"These are issues where you need care in minutes and you haven't got the window of opportunity to travel far."
He is to start a campaign against some of the proposed changes after hearing more of the details.
The proposals cover five health board areas, each with a community health council which can raise concerns during the two-month consultation and take unresolved issues to the Welsh government.
Dr Paul Worthington, chief officer for Cwm Taf Community Health Council, said: "These are big and difficult issues. We want an open and very tough debate.
"We recognise that the status quo is not an option.
"We also recognise there will be concerns about the proposals in the Rhondda, Taff Ely and Llantrisant areas.
"If we think that the proposals are in the best interests of patients, we are quite prepared to offer support, but we're a long way from that at the moment."
But Dr Graham Shortland, executive medical director of the Cardiff and Vale Health Board, said the plans were the best way of delivering a sustainable service.
"I accept that there will be people who will be angry," he said.
"This is the way that we believe will deliver the best possible services for those people."
'Overburden services'
He rejected the idea that people who had to travel further for A&E could be left at risk.
He said work in trauma medicine had shown "it is not the absolute time that you travel, it is about being delivered to the most appropriate centre for that care".
Meanwhile, a campaign by Labour politicians to keep specialist care at the Royal Glamorgan was officially launched.
Welsh Education Minister Leighton Andrews, AM for Rhondda, and Pontypridd AM Mick Antoniw joined with Rhondda MP Chris Bryant and Shadow Welsh Secretary Owen Smith, the Pontypridd MP, to oppose the proposals.
Mr Andrews denied charges of hypocrisy for campaigning against changes resulting from a process launched by the government of which he was a member.
"I represent Rhondda, it's important that we establish a position for the people in the Rhondda," he said.
"We've got a consultation at the moment, and we will take part in that consultation.
"It's important that we keep accident and emergency in the Royal Glamorgan hospital - we are campaigning for that, and are talking now to people in the Rhondda and Pontypridd to keep services here.
"We have a consultation at the moment, there are four options in the consultation document, so we are discussing it with the people in the area," Mr Andrews added.
'Big picture'
Speaking earlier on Radio Wales, Mr Antoniw said: "I think we have to be far more imaginative in where we actually locate some of those services.
"If there are services which are moved out of the Royal Glamorgan it is perfectly justifiable to say there are services which could be better done within the Royal Glamorgan than possible certain other areas.
"So it's a question of taking a big picture across south Wales, but also looking at the demographics and the issues people will have with access to those services."
The health boards are stressing the consultation is open minded and options in which the Royal Glamorgan keeps the services are also being considered.
But the option they believe is the "best fit" is centralising services in hospitals in Morriston Hospital in Swansea, Princess of Wales Hospital in Bridgend, Prince Charles Hospital, Merthyr Tydfil, and the University Hospital of Wales (UHW), Cardiff, along with the new hospital to be built near Cwmbran.