Welsh farming's snow struggle to be reviewed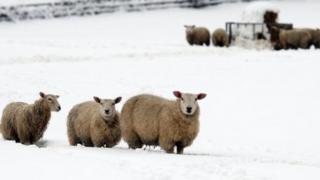 Welsh farming's ability to overcome adverse events such as March's unseasonably heavy snow is to be reviewed, said the minister for natural resources and food.
Alun Davies said the review would have a particular focus on hill farmers, some of whom reported losing hundreds of animals during the lambing season.
Former National Farmers' Union (NFU) director general Kevin Roberts is to lead the study.
Initial findings are expected in July.
North and mid Wales was hit by very heavy snow for several days in March, with large drifts in many areas preventing farmers from reaching their sheep at the height of the lambing season.
Some farmers in the uplands spent weeks finding the bodies of animals buried by the blizzards.
Fallen livestock
Mr Davies temporarily relaxed rules on burying fallen livestock on farmland as the adverse conditions made the usual collection by road of fallen stock impossible.
The weather-related events have led him to commission the review, he said.
It will look at the response by the farming industry as well as local government, the Welsh government and farming charities.
It will also examine the risk management skills of the industry and its related sectors and also whether the current models of farming in Wales are "robust and viable".
Mr Davies said: "The review will inform the development of my thinking on reform of the Common Agricultural Policy (CAP) in Wales over the next seven years, and, in particular the shape of the next Rural Development Plan.
"I also expect that Kevin's findings will also feed into our collective work on responsibility and cost-sharing, and the broader 'Working Smarter' agenda.
Royal Welsh Show
"Given that contingent events rarely respect administrative borders, I have also asked Kevin to consider the Welsh dimension to any matters that might best be addressed at a GB, UK or EU level."
Mr Roberts is expected to present interim findings in time for the Environment and Sustainability Committee at the Royal Welsh Show in July.
His final report is due by the end of November.
Before joining the NFU, Mr Roberts was director general of the Meat and Livestock Commission.