Farmers 'betrayed' by Welsh government, says industry leaders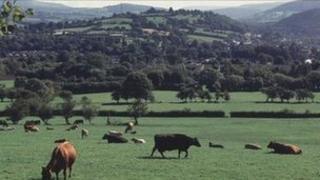 Farmers' leaders say members feel "betrayed" by the Welsh government and are calling for more help.
The Farmers Union of Wales (FUW) say they hope to have frank discussions with ministers later about "huge problems" facing the industry.
Both parties are meeting for Wales's first farming business conference in Llandrindod Wells, Powys.
First Minister Carwyn Jones said he wanted to continue to work with farmers to help the industry to flourish.
Emyr Jones, president of the Farmers Union of Wales (FUW), said farmers were passionate about producing food and caring for the environment but they faced a list of problems and needed more government help.
£150m industry
He highlighted problems with bovine TB affecting more cattle daily, the loss of less favoured area (LFA) funding subsidies and the recent bad weather as hitting farmers hard.
And he called for the same support to be given to Wales as the other devolved nations.
"There are huge amount of problems in Wales," he told BBC Radio Wales.
"We feel betrayed by the Welsh government up to now, especially after the real hardship we have had up to now with the real bad weather."
The agricultural industry is said to be worth £150m to the Welsh economy, employing almost 15,000 people directly.
First Minister Mr Jones said: "Today's event is all about seizing the opportunity to grow the industry in Wales and ensuring that the Welsh government is in pole position to work with the industry and provide the right environment for farm businesses to flourish."
Alun Davies, minister for Natural Resources and Food, said: "Going forward, we know we need less reliance on subsidy payments and more focus on business and profitability.
"I am confident that today's event will be useful in helping us to plan for that eventuality."