Porthcawl RNLI rescuers Paul Eastment and Chris Missen honoured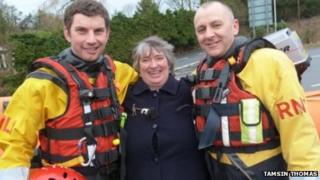 Two RNLI crew members from Porthcawl are being honoured for heroism after saving a woman trapped in flood waters.
Paul Eastment and Chris Missen were part of a crew who will receive bronze medals at a special ceremony in London.
Vanessa Glover was saved after clinging to a tree when waters swept her from her car in Umberleigh, Devon, last December.
It is the first time RNLI volunteers have been honoured for a flood rescue.
The pair are trained as volunteer flood rescuers and were accompanied by fellow crewman Martin Blaker-Rowe, a Poole-based RNLI trainer, when they carried out the rescue.
They were covering for colleagues on flood rescue in Cornwall when they were called on to help.
Boat team leader Mr Eastment, 46, is to be awarded the RNLI bronze medal for gallantry - one of the institution's highest accolades - for his courage, leadership and determination in extremely challenging conditions.
Helmsman Mr Missen, 25, and crew member Mr Blaker-Rowe, 33, will both also be awarded the bronze medal for gallantry for their part in the rescue.
"My heart will burst with pride and emotion when they take their place on that stage," said Mrs Glover.
"As a society we should hold them in the highest esteem," she told BBC Radio Wales.
Their medals will be awarded at a ceremony on Thursday at the Barbican, London.