Flintshire fire: Crews dampen down after Greenfield blaze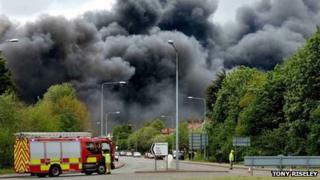 Firefighters have remained overnight at the site of a large blaze at a factory in Flintshire.
Crews were dampening down and checking for "hot spots" after the fire at the Mainetti coathanger factory on the Greenfield Business Park near Holywell.
Around 80 firefighters tackled Friday's blaze, with residents were urged to stay indoors because of smoke.
North Wales Fire and Rescue thanked residents and motorists for their patience.
The fire spread to the factory from a storage area causing pressurised vessels to explode.
All residents were back in their homes on Friday night and the A548, the main coast road passing Greenfield Business Park, has reopened.
Darren Jones, head of technical support with North Wales Fire and Rescue Service said: "We want to thank everyone for responding to the messages which were sent out."
"The joint co-ordinated multi-agency approach worked well in very difficult conditions which involved gas cylinders, high winds and high levels of smoke - thus ensuring the safety of the general public and everyone involved."
One fire engine and a high volume pump were still at the scene on Saturday morning, while a joint investigation into the cause of the fire gets underway involving the fire service and North Wales Police.
Mainetti recycles coat hangers at the plant, which was evacuated on Friday morning and 100 workers led to safety.
Production director Graham Wilson said on Friday it was too soon to say what caused the fire.
"Our emergency procedures all worked well," he said.
Mr Wilson confirmed it was a "substantial fire," which had started outside but had spread to some of the buildings.
He said it was too soon to say when the factory would be up and running again.