Hill walkers in Wales set 400m-plus 'Pedwars' challenge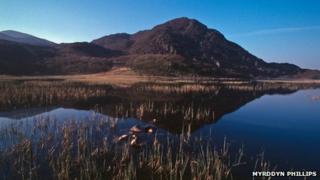 Walkers in Wales are being set the challenge of climbing more than 400 hills that are at least 400m (1,300 ft) high and given the nickname "Pedwars".
A walking enthusiast has come up with what he believes is the definitive list of every hill in Wales, between the height of 400 - 499m (1,312 - 1,637ft).
Myrddyn Phillips has dubbed them the Pedwars, after the Welsh word for four.
So far, only one person is known to have climbed all 447 Pedwars in Wales.
"The list is a tool to get people out into the beautiful and varied wild places in these crowded islands, in all weathers, to encounter fascinating wildlife and stunning views," explains Mr Phillips, of Welshpool, Powys, in his introduction to the Pedwars.
"Such outings lead to memories that last a lifetime."
The Pedwars add to the list of names coined for various types of peaks across Britain.
Munros are Scottish mountains with a height of more than 914m (3,000 ft), while a Marilyn is a peak that rises above other hillsides around it by at least 150m.
Then there are the Hewitts and Nuttalls - peaks that reach 610m (2,000 ft) with relative heights to other summits of at least 30m and 15m.
The Deweys are peaks reaching above 500m (1,600 ft).
"The Pedwars can be seen as a natural extension," suggests Mr Phillips.
Labour of love
"Anyone who has climbed all the Pedwars, Deweys and Hewitts in Wales (a very considerable undertaking) will have gained an intimate knowledge of all the upland areas in the country."
One walker, Rob Woodall, is cited by Mr Phillips as the first known person to have completed the Pedwars.
Drawing up the list of Welsh Pedwars has been a massive undertaking and labour of love, especially as each hill name had to be researched.
Many were discovered from local farmers or found on some of the first maps that were available to the public.
The bulk of this painstaking work has been conducted by Aled Williams, who has been the Welsh language and place name adviser for the Pedwars listing.
"Research into the names of the Pedwars proved a great challenge. As well as the 447 hills in the main list, there are another 270 hills in three sub-lists," he explained.
"So with over 700 hill names to research and analyse for their composition, any free time I've had for the last few months has been spent either walking the hills or doing research into their names."
The full list of the Pedwars is available online, published free by the Europeaklist.