Larch trees felled to stop spread of disease in Wales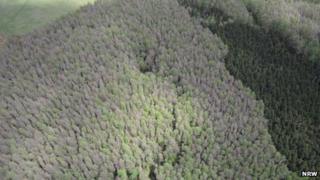 Urgent action has been taken to stop a tree-killing disease spreading in Wales
Natural Resources Wales (NRW) has started felling larch trees infected with the fungus-like pathogen Phytophthora ramorum.
It was first discovered in the Afan Valley, Neath Port Talbot three years ago and had infected trees in about 3,000 hectares by the end of 2012.
NRW aerial surveys have revealed a further 1,800 hectares are showing signs of infection.
Some 1,300 hectares of larch trees, which form an important part of Wales' commercial forests, have already been felled to contain the disease.
John Browne, from NRW, said: "When we get the test results from our laboratories, we'll reconsider the scale of these operations and what we need to do to get on top of the disease.
"We're also looking at new methods to treat the disease more quickly and working with stakeholders to review the Wales ramorum disease management plan in light of the findings."
It is thought last year's wet summer followed by a mild start to the winter created the right conditions for the disease to thrive.