Woodland Trust warns thousands of historic trees at risk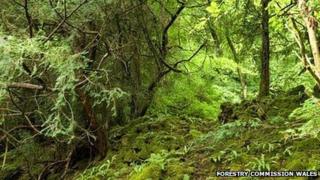 Pests, disease and development are threatening more than 4,200 of Wales' most historic trees, a charity has warned.
The Woodland Trust said some of the most treasured trees it found at risk are more than 1,000 years old.
It said trees face regular problems from diseases such as ash dieback and pests like the Asian longhorn beetle.
Last month the Pontfadog Oak, a 1,200-year-old tree at Chirk, Wrexham, was blown down in high winds.
The charity said such trees were "the natural equivalent of listed buildings" and have made a contribution to Wales' folklore which cannot be replaced just by planting.
The charity is holding a conference next month on how to protect trees and woodland.
It says it has found 444 historic ash trees which could be at risk from ash dieback and is asking the public to check the health of ash trees they find.
Head of conservation Austin Brady said: "At this time of year one of the easiest ways to see if a tree is suffering from ash dieback is to look at a young branch and scratch a little of the bark off.
"If it is green underneath the tree is healthy - if it is brown it is not.
"Watch out for wilting on the leaves - which may throughout the summer become more blackened but still stay on the branch - diamond-shape lesions on the trunk, or a balding crown.
"To lose any trees to pests, diseases and development is bad enough, but to lose our precious ancient trees would be absolutely terrible.
"These huge stalwarts have taken centuries to grow and their loss would be devastating not only for the landscape but also for the environment."
The charity said there are at least 15 other diseases affecting trees in Wales in addition to ash dieback.
But woodland faces other dangers as well, it said, such as the two acres (0.8 hectares) of ancient woodland that was cleared as part of an improvement of A470 at Cross Foxes in Gwynedd.