Wales police: Overtime payments rise in 3 of 4 forces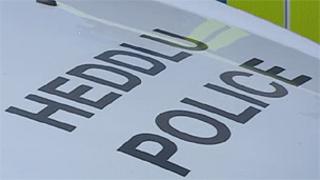 Overtime payments by three of Wales' four police forces have risen substantially in the last financial year amid UK government efforts to cut costs, BBC Wales has learned.
Overtime costs rose in the South Wales, Dyfed-Powys and Gwent areas but fell in North Wales Police.
The highest amount of overtime pay received was by one person working for South Wales Police who got £21,404.
The Home Office said police reforms were "working and crime is falling".
The figures were obtained by BBC Wales' Welsh-language news website, Newyddion Ar-lein in a Freedom of Information request.
South Wales Police
Overtime spend in South Wales Police increased from £6.6m in 2011/12 to £8.4m in 2012/13, a rise of 27%.
It was paid to 3,522 individuals in 2012/13.
The total spend on Olympics overtime was £918,065. It covered planning and policing of the Olympic Torch and Olympic events in Cardiff, mutual aid to London and Dorset including cover costing around £600,000 after G4S failed to provide enough security staff.
Umar Hussain, the chief financial officer for the force, said: "Overtime in South Wales Police has reduced by £1m between 2008 and 2012. This reduction has been achieved despite a fall in police officer numbers.
"The increase reflected in the figures for 2012/13 is mainly due to the Olympics and also reflects a significant number of officers who have been deployed on mutual aid to assist other forces in dealing with major incidents. These costs will be reimbursed to the force."
Dyfed-Powys Police
There was an increase of £432,449 (20%) in overtime for officers and staff, to £2.6m in 2012-13.
The largest sum paid to an individual in overtime was £20,062 in 2011-12 and £15,139 in 2012-13.
A spokesperson said: "In the financial year 2012-13 referred to here the force has had to deal with major high-profile operations and investigations, such as the investigation into the abduction and murder of April Jones in Machynlleth.
"These types of operations and investigations require exceptional resources in order to ensure the best possible outcomes and ensure the same level of service continues for the public of Dyfed-Powys in its entirety."
Gwent Police
There was an increase of £124,023 (7%).
The largest sum paid to an individual in overtime was £16,516 in 2011-12 and £13,760 in 2012-13.
Gwent Police said: "Overtime working must meet specific criteria which demonstrates necessity and value for money.
"In some operational circumstances this is the most cost effective and flexible use of resources."
North Wales Police
Overtime fell from £3.7m to £3.5m, although the number of individuals who received overtime rose from 1,704 to 1,809.
The largest sum paid to an individual in one month was £4,065.
The force said: "General overtime has been closely monitored and managed during the course of the financial year."
'Make up the gap'
The Comprehensive Spending Review of 2010 announced that central government police funding from the Home Office, Department of Communities and Local Government and Welsh government would reduce by 20% in real terms by 2014/15.
The move has been opposed by the Labour party.
Shadow policing minister and Delyn MP David Hanson said: "It's no surprise that overtime has increased because this government has insisted on reckless cuts to our police service, and our hard-working police officers refuse to let standards slip so they are having to work longer hours more often to make up the gap."
Meanwhile, John Giblin, the Welsh representative for the Police Federation of England and Wales, said: "It is inevitable that overtime has increased with officers finding themselves having to do more work with less resources.
"However, even without resource shortages, overtime is often required at short notice or because of the specialised roles officers undertake."
But a Home Office spokesperson said: "Police reforms are working and crime is falling.
"The funding settlement for the police is a challenging one but, as the vast majority of forces are demonstrating, it is manageable".