Carwyn Jones wants 'conversation' on everyday Welsh use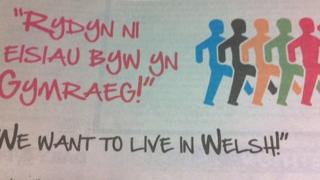 A "national conversation" about how Welsh is spoken in everyday life has been launched by the first minister.
Carwyn Jones told a youth forum at the Urdd Eisteddfod that he understood worries about the fragile state of the language.
The 2011 Census showed a fall in the number of places where over half the population can speak Welsh.
Mr Jones said he wants to know why some people "don't want to use Welsh or don't feel confident in using it".
Census figures released by the Office for National Statistics (ONS) in December showed an overall drop of 2% in the number of people who speak Welsh to 19% of the population in Wales.
It also suggested Welsh was now a minority language in two heartlands, Carmarthenshire and Ceredigion.
A Welsh government spokesperson has previously said it needed to do more to "promote and facilitate" the language.
The initiative launched by Mr Jones at the Urdd in Cilwendeg, Pembrokeshire, invites contributions via community groups and an online forum on the Welsh government's website.
It includes a conference to be held in Aberystwyth on the 4 July.
"We all understand the fragile situation of the language, as highlighted by the results of last year's Census and many of you have expressed concern and appealed for more to be done," said Mr Jones.
He added: "We want to know how people with all abilities of Welsh currently use the language - and what issues they face when trying to use the language for everyday activities.
"We also want to understand why some people either don't want to use Welsh, or don't feel confident in using it.
"Most importantly, we want to find out what people think could be done to increase the opportunities to use Welsh in their everyday lives."
Views, opinions, ideas and examples of best practice will be used to help shape future policy, said Mr Jones.
In February the language pressure group Cymdeithas yr Iaith Gymraeg took out adverts calling for policy changes following the census figures on declining use of Welsh.