Welsh A&E waiting time target missed again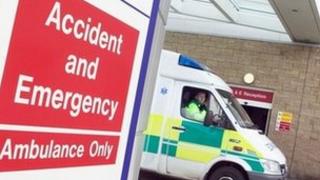 Hospital accident and emergency waiting time targets to treat patients within four hours in Wales have been missed again.
The latest figures from the Welsh government show 84.3% patients were treated within four hours in March and it rose to 85.9% in April.
It remains below the Welsh government target to admit, transfer or discharge 95% of patients within that time.
The Welsh government said pressures on emergency care was a UK-wide problem.
The 99% target for patients to spend less than eight hours in A&E was also missed, with 93.3% treated within the time frame in March and 94.5% in April.
A Welsh government spokesperson said: "The pressure on emergency care services can be linked to an increase in the number of acutely ill elderly patients who have complex needs.
"These patients often suffer from a number of conditions which can result in longer lengths of stay in hospital.
"The current pressures on emergency care services are a UK wide problem but it is important to note that Wales has the largest proportion of people over 85."
The spokesperson said Health Minister Mark Drakeford recognised that more needed to be done to ensure "delivery of unscheduled care" and improving these services was a priority for the Welsh government.
"We are expecting unscheduled care improvement action plans from all Local Health Boards and the Welsh Ambulance Services NHS Trust shortly, and will continue to monitor the situation closely," the spokesperson added.
Kirsty Williams has called for significant improvements in the performance of A&E departments in Wales.
'Appalling'
Ms Williams, the Brecon and Radnorshire AM, described the figures as appalling and said "only further highlight how badly the Welsh Labour government has mismanaged our NHS".
"While the Welsh Labour government's own A&E targets have never once been met, we would expect there to be at least signs of steady improvement," she added.
"Sadly, that is far from the case. In fact, the figures for March are the worst they have been in more than a year."
The A&E figures have marked a bad week for health service target time results.
Earlier this week, it was revealed that waiting time targets for urgent cancer cases in Wales were being missed too, despite a pledge they would be met by March.
The Welsh government target is for 95% of patients to see a specialist in 62 days, but the latest figure is 84%.
The Welsh Ambulance Service has also missed its response time target for the most urgent cases for the 11th month in a row despite an improved performance.