Summer drink-drive crackdown in Wales begins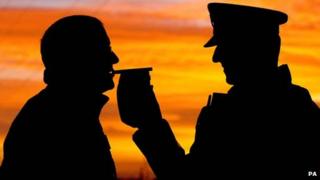 A month-long crackdown on drink drivers gets underway on Saturday, backed by the four Welsh police forces.
Police say it will mean increased stop checks for motorists and an focus on those who get behind the wheel after drinking or taking drugs.
Last year saw the forces' operation stop more than 19,000 drivers - with 360 arrested for drink-driving.
A drink-drive conviction means an automatic driving ban for at least 12 months and a fine of up to £5,000.
"Any amount of alcohol affects your ability to drive and this is what people need to understand," said Gwent Police's Ch Insp Paul Evans.
"It's not possible to say how much alcohol you can drink and stay below the limit so if you're driving it's better not to take the risk - don't drink anything at all.
"The consequences can be devastating not only for you the driver, but other innocent people on the road."
Drink drivers can risk a six month prison sentence if caught and up to 14 years behind bars if found responsible for a death.
"Of course, we are always identifying and prosecuting those drink-driving as part of our normal patrols," he added.
"But during the campaign officers across Wales will be increasing highway patrols to target those breaking the law."